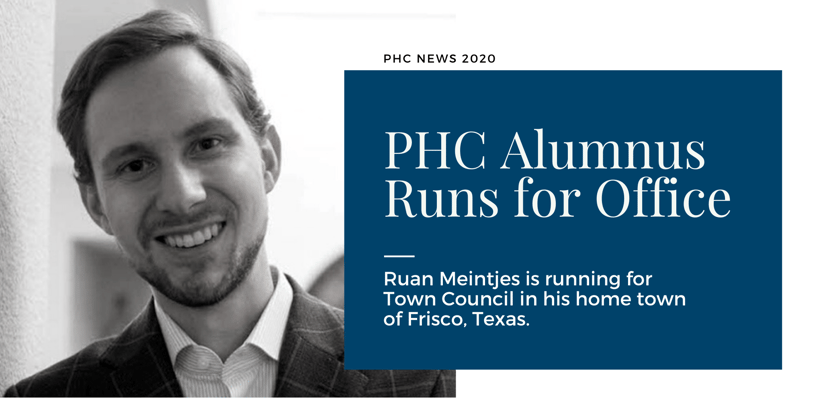 Not unlike many other students at Patrick Henry College, Ruan Meintjes came to PHC with aspirations to impact the political machine in Washington, D.C. He wanted to be an appellate litigator and argue in front of the Supreme Court—something that had been a passion of his since he was 15 years old. Instead, he left PHC with a different vision. His time at Patrick Henry College and the lessons he learned through the Political Theory track led him to realize he wanted to invest in government, and the people around him, in a more direct way. Meintjes is running for City Council in his hometown of Frisco, Texas.
Frisco Texas used to be a small town. In what seemed like a day or two, it went from being a place of 40,000 people to 100,000 residents in a handful of years, more than doubling the size of the city. Two highways and an influx of commerce quickly changed what the city looked and felt like. Right now, many longtime residents of the area are struggling to hold on to a legacy and identity as a small town, but adapt to the changes taking place.
Meintjes, who has lived there his entire life, believes he can help with that new direction.
"Things grew up real fast," Meintjes said. "I quickly realized I could affect more people in my local community than I ever could if I had stayed in Washington D.C."
Climbing the political ladder isn't exactly a rare aspiration among students at Patrick Henry College. Like Meintjes, many students who come to PHC do so because they want to aim high and achieve great things.
"50% of the people there wanted to be President of the United States and the other half wanted to be senators or run for Congress, and that's all fine and great. I think that's wonderful," Meintjes said. "But a lot of our education focused on the local community and what it meant to be part of a community and why that's important at a local level."
Government isn't a machine. It's made up of people who have communities and hometowns and families. A large part of the theory track at PHC isn't just about understanding governments, but also understanding what creates rich and healthy citizens. Local government and hometowns are a large part of that.
"I wouldn't be doing this if I didn't go to Patrick Henry College," Meintjes said.
To read more about PHC and what an education here looks like, click below!
-------