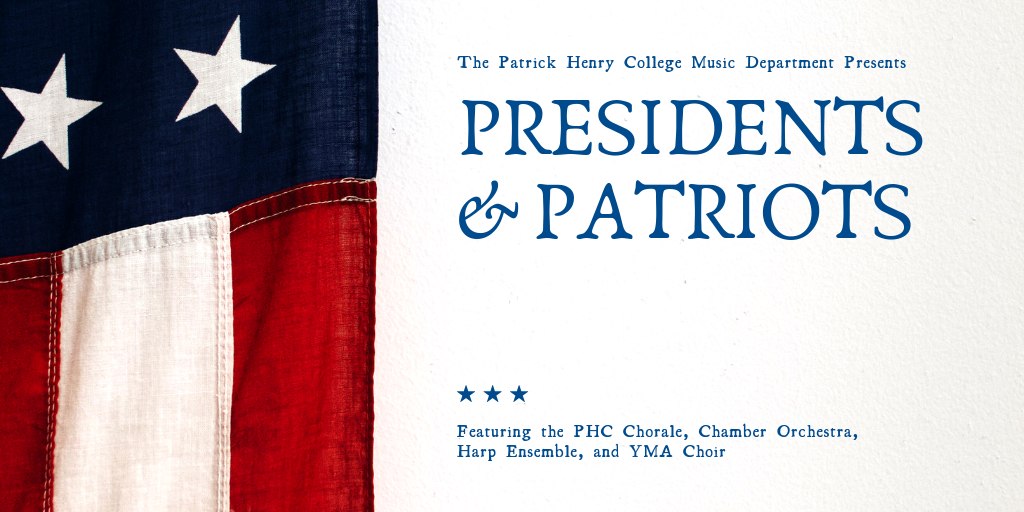 The Patrick Henry College Music Department is proud to present a musical performance called "Presidents & Patriots" involving the talent of over 60 musicians and vocalists this coming Saturday, February 23rd.
[Click here to watch the concert recording.]
The concert will feature two performances at 5:00pm and 7:30pm including the PHC Chorale, Chamber Orchestra, Harp Ensemble, and Youth Music Academy Choir.
The concert will honor Presidents' day featuring patriotic music. Highlights include The Gettysburg Address by Abraham Lincoln set to orchestral music and narrated by President Jack Haye and his son, Sutton. Another is a beautiful piece called Dear Sarah, (adapted from a real letter written by a Civil War soldier who perished in Bull Run to his wife). Third is Requiem for a Soldier, sung by Dr. Sherry Doyle.
Other features will be the Harp Ensemble doing an American medley, the YMA Choir joining in for some pieces, and a flute solo which was written for 9-11.
Admission is free but donations are welcome.
Join us in the Barbara Hodel Center Lobby on campus for a celebratory evening in remembrance of the presidents and patriots who dedicated their lives to our nation.
If you are unable to make the concert, a video recording of the concert will be available on our YouTube channel shortly afterward.
---
To watch past PHC concerts, click here...