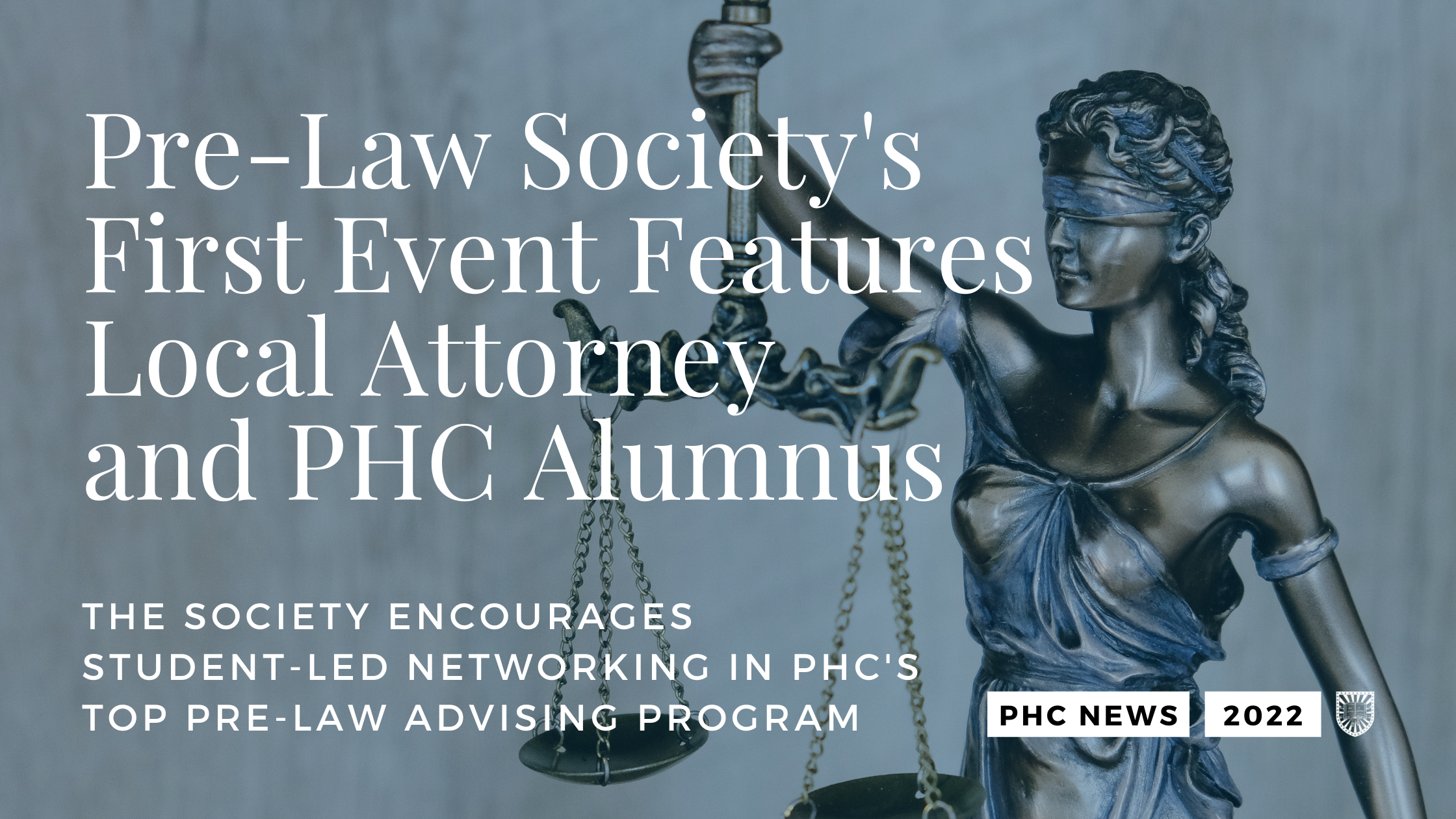 The reflection of the moon shimmered across Lake Bob. A gaggle of geese floated on top of the water. The late February breeze chilled the night air.
Most PHC students sat inside their dorm rooms, finishing up homework and winding down for the night. However, a group of students walked past Lake Bob's peaceful scene and into Town Hall. They sat down and listened intently as alumnus Caleb Jones ('08), an attorney at Simms Showers LLP in nearby Leesburg, Virginia, began his presentation at the Pre-Law Society's first event.
"Right now, you are talking to the coolest person that graduated from PHC," Jones said as the entire room burst into laughter.
While his presentation was peppered with various humorous and sarcastic comments, his talk, entitled "How to be an Ordinary Lawyer," educated his audience on the path of becoming a lawyer and the need for "ordinary" lawyers—not just those arguing in front of the Supreme Court.
"It's tricky to become a lawyer. You need to know what you want to do, which is why I'm here," Jones said.
The Pre-Law Society is a new student-run club started by Dr. Jesse Merriam, associate professor of Government and Pre-Law advisor. Sophomore Aileen Haggerty is the president of the club and freshman Hope Rawlson is the vice president.
"Our principal goal is to bring speakers to campus to help students decide whether law is their calling. In these events, we will cover diverse topics, such as the law school application process, different areas of law, and the challenges facing Christians in the legal world," Merriam said.
The Society hopes to create a community of like-minded students pursuing law. It will also create connections with alumni for possible internships. As the club expands, Haggerty plans to establish study groups and preparation assistance for the Law School Admission Test (LSAT).
"I see our major contribution as developing the reputation, breadth, and influence of PHC's Pre-Law program," Merriam said.
PHC's Pre-Law advising program has been very successful. In 2019, PHC students earned an average of 167.6 on the LSAT—which means our students, on average, test in the 95th percentile and rival Ivy League scores. Patrick Henry College students' performances on the LSAT places the College's Pre-Law advising program among the top in the nation.
PHC's Mock Trial program is in the top 1% in the nation and the Moot Court program has won an unprecedented 12 national titles in 15 years in the American Moot Court Association. No other college or university has more than one title. Students often earn their way into elite internships and top-tier law schools.
The Pre-Law Society will only contribute to the program's overall success. Jones' presentation was the start to many more helpful and informational talks and events for students interested in all types of law.
"I thought Mr. Jones' remarks were important for us all to hear. Sometimes we get caught up in the big 'culture shifting' movements, and, while those are important, it's also true that there are a lot of ordinary people out there that just need help," Freshman Nikolas Frey said.
Freshman Gabrielle Sakai agreed, saying, "Like [the] speaker said, there is such a shortage of Christian family lawyers. I firmly believe that Christians should be running toward, not avoiding, the service of families through law."
-----
Trying to decide if PHC is right for you? Learn what makes PHC unique by clicking below: