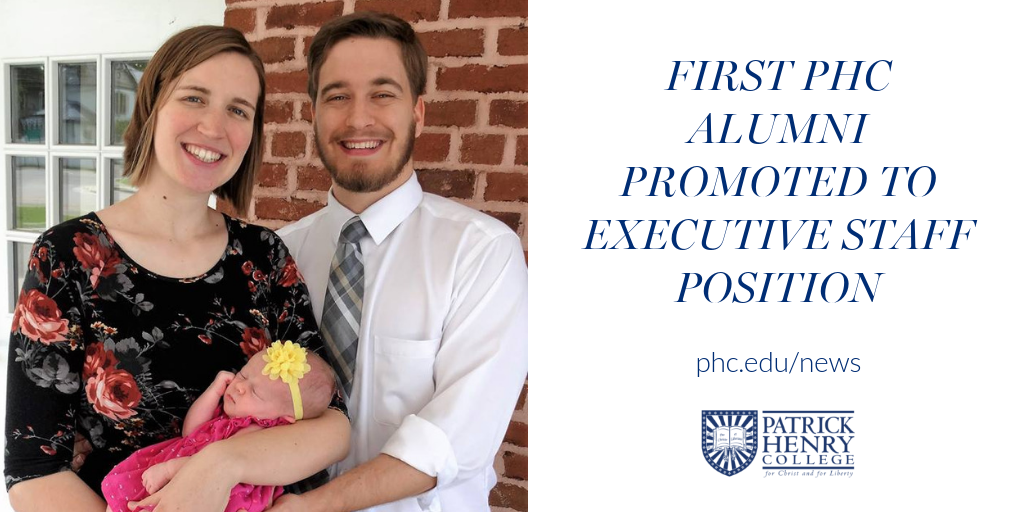 Stephen Pierce (Classical Liberal Arts, '15), is the first member of the alumni community to hold an executive position at Patrick Henry College.
After his promotion to Director of Student Recruitment in May, he not only helped welcome the largest incoming class in PHC history but also showed exceptional leadership spearheading the latest enrollment season.
As the admission team continues to double-down on their recruitment efforts, Pierce looks to American history for inspiration. "Charles Ingalls—he put the tarp on the wagons and just went for it," he said, "I love the excitement of that kind of movement and trailblazing. I love anyone who picked up everything they had to move west and follow what the Lord had for them."
Pierce started working in the Office of Admission on the recommendation of his now-wife, Megan (Government, '16). He applied and was hired shortly after.
"It was kind of always my goal…to be the first alumni executive," he said, "And the Lord finally moved that way."
Pierce believes that with the recent restructuring within the Offices of Admission and Communication, it is possible for PHC alumni to move up the ranks more quickly than before. He hopes his promotion is a benchmark for other alumni looking to work at the College.
"A member of the alumni community is now helping shape the future years of the college on this level," Pierce says, "That's neat, whether it's me or someone else down the road."
The Office of Admission employs five alumni to date. Pierce says his admission management team is one of the youngest in the country.
"We're being more active and targeted with our work now, which includes a lot of planning. This past summer was devoted to preparing for the next round," Pierce said, "With the new application portal, students are moving through faster; so our numbers are already up from last year."
The admission team now looks to the Class of 2022 as a goal for future recruiting efforts. The campus dormitories and classrooms are nearing max capacity, so until the infrastructure is in place to receive larger classes, the team aims only to increase recruitment numbers by incremental percentages.
"Base hits not home runs—that's the big task before us right now," Pierce said.
Megan, also spent time on staff at PHC in several capacities after graduating: Admission Counselor, Teen Leadership Camps Director, and Accounting Assistant. She is now a full-time mother to their two-month-old daughter, Janie Kathryn. Although she is not looking for further employment from PHC, Pierce says she is excited to stay involved with the staff community, support her husband, and show up to the occasional wing chapel session.
"I just loved PHC and had an incredible experience here," she said, "I also have a lot of sibling's college experiences to compare it to. They went to larger state colleges, which were not totally bad experiences, but it also wasn't like the rich and deep one I had here."
Unlike many graduates, the Pierces decided they wanted to stay local and pursue a life of service in the PHC campus community indefinitely. Today, they live in W.Va. and attend church in Winchester, Va.
---
To learn more about our alumni community, click the button below...