PHC was proud to host 122 forensics competitors and their families for NCFCA's Virginia Qualifier tournament last week.
During the closing ceremony, PHC awarded five students full-ride scholarships for one Teen Leadership Camp of their choice this coming summer. Four students were selected for the scholarship via a drawing within the final speech and debate rounds, and the last was randomly chosen from the entire tournament pool.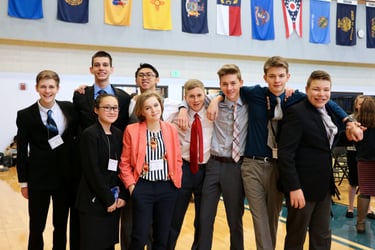 Prior to the tournament, NCFCA encouraged members of the PHC and HSLDA communities to support the students by signing up to judge speech and debate rounds. According to Aimee Stauf, PHC's Prospect Marketing Lead, over double the expected number (87 percent) judged throughout the week. The tournament directors and PHC Office of Admissions are all incredibly grateful to the community judges for their support.
[Related post: Watch the webinar "The Purpose of Communication"]
NCFCA's mission is to promote "excellence in communications through competitive opportunities, where homeschool students develop the skills necessary to think critically and communicate effectively in order to address life issues from a biblical worldview in a manner that glorifies God."
-----
To learn more about our world-class forensics programs at PHC, click the button below!