Many of us are reeling from a culture torn apart by different definitions of what is true and what is good.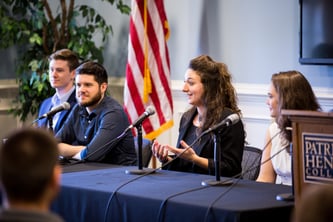 It is vital that we learn to articulate what is true not only to local clubs and communities, but also to the real world.
Here at Patrick Henry College, we want to train your skills as a communicator no matter what field God is calling you to pursue. Interested in civics and international politics? Learn more about Moot Court and Model UN. Interested in shaping worldview through film or writing? Learn more about British Parli. Want to hone your speaking skills so you can teach, act, or start a business? Learn more about Mock Trial and Drama.
Watch our webinar which gives you an inside look at PHC's approach to worldview and communication. Plus, we'll give you pro-tips to prepare for the PHC Forensic Scholarship!
The webinar hosts are Abi Carter, former Stoa National debater and PHC graduate, and Aaron Kamakawiwoole, former NCFCA debater, Moot Court team captain at PHC, and former staff.