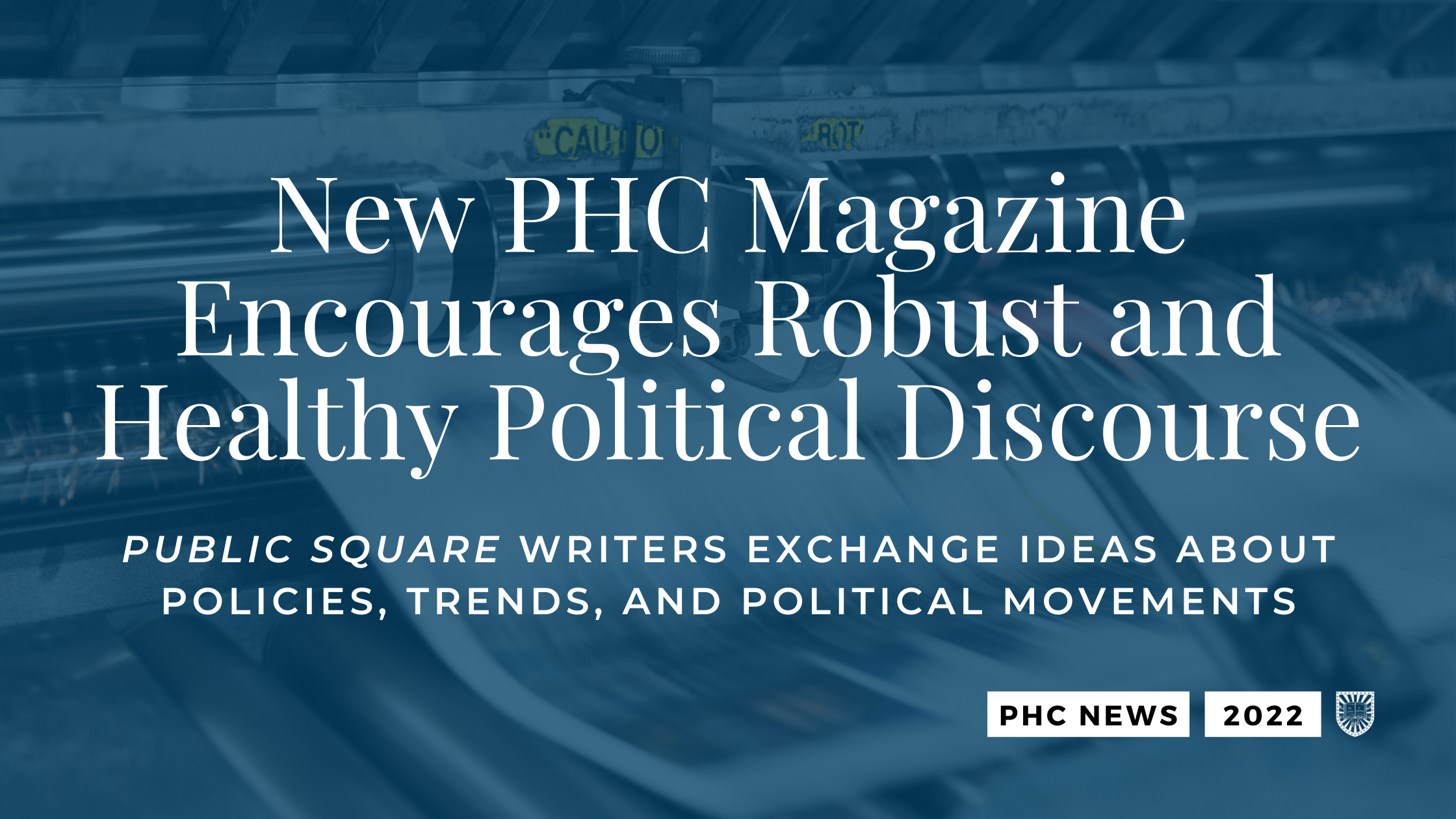 Senior Cole Reynolds, who formerly worked as the editor-in-chief for the George Wythe Review, PHC's award-winning undergraduate policy journal, has announced the launch of the Public Square, a student-driven political opinion magazine.
"First and foremost, we want to be a public square," Reynolds said. "We want a magazine where we publish well-articulated political and policy opinions."
Reynolds, who is the magazine's first editor-in-chief, explained the need for a campus publication that could present persuasive but conflicting opinions. In the U.S., people often resort to one of two extremes—yelling or silence—but engaging in healthy discourse, like what is encouraged in a public square, is needed to rectify the situation.
"Our primary goal is to be a publication to promote discourse on politics and its integration with worldview by facilitating the exchange of ideas about policies, trends, and political movements," Reynolds said.
The magazine will be formatted to encourage discussion. For example, it will feature a page or two of short, tweet-like takes submitted by students. "Sometimes you just don't think about things that are outside of your policy niche or frame of reference," Reynolds explained. "[The takes] can be interesting challenges to your frame of reference or on a new topic you haven't thought of before."
For future issues, the team hopes to place two articles that disagree on a particular topic at the magazine's centerfold. "One person would write an affirmative article," Reynolds said. "Another would write a response to that so you would actually have dialogue."
The magazine's launch team includes current juniors, sophomores, and freshmen. Reynolds is excited about the team because it lends longevity to the project and harnesses the talent of underclassmen. "It's a way for them to write about things that they're passionate about and get published in a way that isn't as high commitment as the George Wythe Review," Reynolds said.
While the publication's team is composed of students majoring in American Politics & Policy, students studying other majors are encouraged to submit articles.
"I've had conversations with and submissions by people who are not in the APP major," Reynolds said. "They have particular insights from other areas about really interesting and important policy areas."
The Public Square's first issue will be released by the end of the spring semester, and future issues will be published on a semesterly basis.