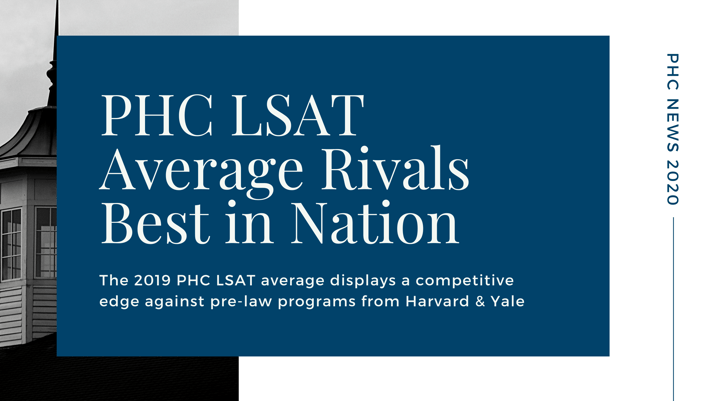 There are very few things that adequately capture Patrick Henry College's 20-year dedication to excellence as well as the number 167.6.
With 12 national moot-court titles in 15 years, 10 alumni on staff at the White House, and 4 graduates selected to clerk for the Supreme Court, Patrick Henry College has already enjoyed a long list of achievements. Each one of these accomplishments is a testament to the truly remarkable success Patrick Henry College has been blessed to enjoy in its first 20 years as an institution—an impressive track record for a college younger than some of its students.
But now, as Patrick Henry College rounds the corner to begin its next 20 years, the school has added another benchmark for success—one that puts it in direct competition with the very best undergraduate schools in the nation: an LSAT average of 167.6.
The Law School Admission Test, more commonly known as the LSAT, is notorious for being one of the most trying assessments in the professional world; it's the gateway to a legal career. To begin practicing law, you need a degree from a law school. And in order to get into a top law school, you have to do well on the LSAT. That's no small feat.
Pre-law students looking to perform well on the LSAT will train up to several months—taking hours each day to analyze the complexities of the test. Test day might be a five-hour all-out sprint, but the road that leads to it is nothing short of a marathon. Doing well on the LSAT often requires hundreds of hours of preparation and dozens of practice trials. A good score could mean an acceptance letter from the school of your dreams. A bad score could set a career back years.
On a test like this, every point counts. A single point can be the difference between admission and denial. It can also be worth thousands of dollars in scholarship awards.
According to College Confidential, Harvard and Yale are the two best pre-law programs in the nation. Their averages represent some of the most well-prepared students in the country. For someone looking to get the best LSAT score possible, there are no better pre-law programs in any other undergraduate institutions—except for maybe the one at Patrick Henry College.
In 2017, Harvard undergrads had an LSAT average of 167.4. In the same year, Yale undergrads beat out Harvard by a tenth of a point with an average of 167.5. That year, PHC's average score was not too far behind, at 164.4. Two years later, in 2019, however, Patrick Henry College students had an incredible average score of 167.6 on the LSAT! Patrick Henry College has once again demonstrated its ability and resolve to equip its graduates with the tools needed to compete with the very best.
Back in 2001, PHC was founded to fill a void in higher education and to challenge the most elite academic programs in the country; to equip brilliant minds with a high standard of academic rigor, fidelity to the spirit of the American founding, and an unwavering biblical worldview.
This isn't the first time Patrick Henry College has competed directly with Harvard and Yale and it certainly won't be the last. That standard of excellence is hard to come by. At Patrick Henry College it's been a guiding principle for 20 years that has made so many other successes like this one possible. The proof is clear: PHC is building effective pathways to the highest levels of leadership in America. That standard of excellence is here to stay.
____