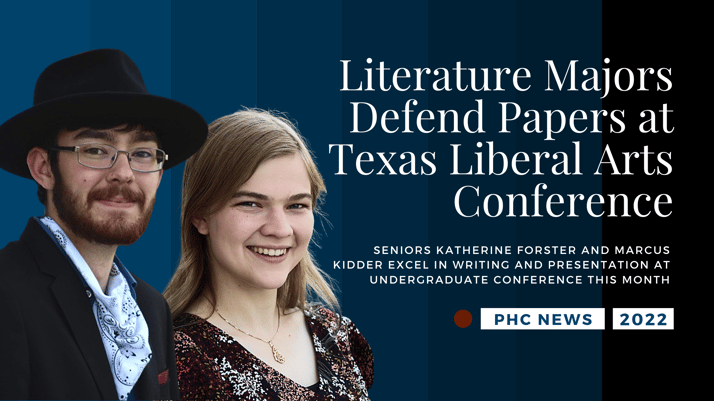 In a well-lit business conference room, daylight from floor-to-ceiling windows framed a gathering of 15 to 20 students. Seated around a large U-shaped table, their attention turned towards the front of the room where three more students formed a discussion panel.
Throughout the day, four different panels presented and discussed their papers as part of the fourth annual Braniff Undergraduate Conference in the Liberal Arts, held at University of Dallas in Irving, Texas from February 4-5. The event brings likeminded students together from all over the country to "recover and renew the Western heritage of liberal arts and the Christian intellectual tradition in pursuit of eudaimonia, the good life."
Among the panelists was senior Literature major Marcus Kidder, one of PHC's own, who spent the day prior jumping from flight to flight to present his paper on C. S. Lewis' Till We Have Faces. Katherine Forster, also a senior Literature major, had just finished presenting her paper on reader-response theory as part of a discussion of Art, Metaphor, and Perception.
"It was really rewarding to get to interact and have really deep discussion with undergraduates who are also interested in the liberal arts, especially literature," Forster explained. "We missed the Faith and Reason lecture, but the whole 'connecting faith to various areas of study' was very much on display."
Discussion panels were organized by topic. "My panel had the slight misfortune of having the three people on it all presenting on specific books, which meant that questions were usually pitched to just one of us," Kidder noted.
The opposite was true of Forster's panel. "People were really interested in the reader-response theory paper," she said. "It really generated some strong dialogue, because we're talking about 'do words have meaning?'"
Forster's paper examined Stanley Fish's reader-response theory, which describes how the meanings of words are determined by the interpretive communities that utilize them. Forster concluded that when synthesizing this theory with John 6, it becomes a "very Christian theory."
Kidder's paper argued that Lewis' Till We Have Faces can be divided into five main conflicts that progress the novel's mythic quality. At the event's end, Dr. Bernadette Waterman Ward delivered a keynote speech titled "Newman, Dante, and the Way Out of Hell," in which she argued for the virtue of community learning applied to the university.
Both Kidder and Forster praised the speech, with Kidder adding that he thinks PHC follows Dr. Ward's prescription "pretty well." Prior to the event, both students faced unlikely obstacles to their travelling to Texas. Kidder's flight had been cancelled due to unusual weather conditions just as he was leaving campus. Housing and transportation troubles, led Kidder to lightheartedly remark that "God was just sort of having some fun at my expense."
"I absolutely recommend that PHC students do it," Kidder said. "Submitting a paper requires that you have to take something you've already done and tool it back and make it better."
"It's a great experience to get to meet people from other colleges who have different backgrounds but who are also passionate about the liberal arts," Forster added. "You get to dialogue with people and really develop your ideas more."