In an all-employee meeting this week, President Jack Haye announced Dr. Mark T. Mitchell's appointment as the new Dean of Academic Affairs. Dr. Frank Guliuzza's unexpected passing left significant gaps in several College leadership positions. Yet, as President Haye declared several times, "God had that day marked on his calendar for a long time." As so often happens, our time of grief was accompanied by opportunities for new leadership, growth, and progress.

"We have all experienced a whirlwind of change over the past two weeks. I am grateful for our leadership team who moved quickly and effectively to fill in the gaps left by Dr. G's passing," President Haye remarked. "We are trusting that the LORD will bring the right people to join our community as we build on Dr. Guliuzza's strong legacy."
In his role as Dean of Academic Affairs, Dr. Mitchell will be a key voice for our academic ethos. As a member of the PHC's Executive Team, he will also be involved in strategic planning for College growth.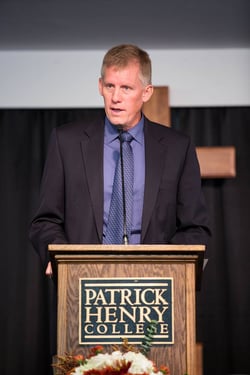 Dr. Mitchell is highly respected as a careful scholar, a thoughtful leader and a committed follower of Christ. He joined the college as a Professor of Government in 2002, primarily teaching courses in Political Theory. In 2008-2009, he was a fellow at the James Madison Program in American Ideals and Institutions at Princeton University, and in 2012, he was appointed Chair of the Government Department at PHC.
He received a Ph.D. and M.A. in Government from Georgetown. He also holds an M.A. in Philosophy from Gonzaga University. Dr. Mitchell is the author ofThe Limits of Liberalism: Tradition, Individualism, and the Crisis of Freedom, The Politics of Gratitude: Scale, Place, and Community in a Global Age, and Michael Polanyi: The Art of Knowing. He is co-editor of Localism in the Mass Age: A Front Porch Republic Manifesto, The Humane Vision of Wendell Berry, and The Culture of Immodesty in American Life and Politics. He is the co-founder of the web-zine Front Porch Republic, and author of many articles on topics relating to localism, liberalism, and political philosophy including, "Illiberal Liberalism and the Future of the American Experiment."
Through this transition, Gayle Reinhart will continue in her key role as Assistant to the Dean of Academic Affairs. Gayle's tenacious spirit and steady leadership have been a great blessing to the entire College—especially in lieu of Dr. Frank Guliuzza's passing.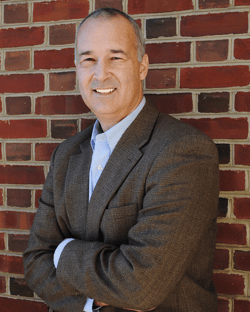 Dr. Les Sillars will assume a dual role as Associate Dean and Chair of the newly formed Department of Applied Liberal Arts, which includes Journalism, Economics and Business Analytics, and the Pre-Med Advising Program.
In his role as Associate Dean, Dr. Sillars will serve as the primary faculty liaison with the Office of Institutional Effectiveness, a critical role as we continue the process toward regional accreditation.
Dr. Sillars came to PHC in 2002. He received his Ph.D. in Journalism from the University of Texas-Austin where he studied under Marvin Olasky. Dr. Sillars built PHC's Journalism program from the ground up. He has shown himself to be both a master teacher as well as a practitioner of the art of journalism. His work has appeared in such outlets as WORLD, Touchstone, and First Things, and he is a regular radio contributor on The World and Everything In It.
Over the years, Dr. Sillars has come to be known as a man of sterling integrity, sound judgment, and good humor. Everyone who knows him appreciates his kindness, his wisdom, and his love of Calvin and Hobbes. We are delighted that Dr. Sillars will be filling both of these vital leadership positions.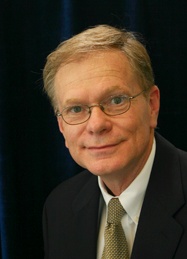 Dr. Michael Haynes was appointed Government Department Chair, which includes America Politics and Policy, International Politics and Policy, Political Theory, Political Philosophy, Strategic Intelligence, and the Pre-Law Advising program.
Dr. Haynes joined the Patrick Henry College faculty in fall 2008. He received his Ph.D. in Political Science from the University of Tennessee and hold an M.A. in Political Science from Marshall University. His research specialty deals with the organizational and managerial structure and operation of the modern White House. His academic research includes work with the Howard Baker Center for Public Policy.
Before going to graduate school, Dr. Haynes acquired extensive experience in grassroots politics and in state and local government.
Since a number of our graduates find themselves working as staff members for government offices, or when they become government leaders themselves will have staffs of their own, Dr. Haynes' work on what makes staff members effective or ineffective can prove invaluable. The combination of academic expertise and practical experience that Dr. Haynes brings to PHC helps ensure that our government students have the best preparation possible for wherever God leads them.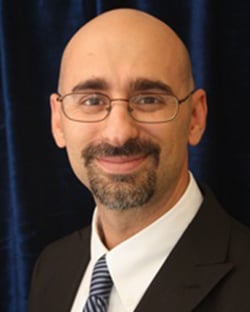 Dr. Doug Favelo will continue in his current role as Chair, Department of Classical Liberal Arts. He received his Ph.D. in History an M.A. in Classics and an M.A. in History from UCLA. He received a second M.A. in History from California State University Fresno.
Dr. Favelo's research interests include Italian resistance to the expansion of Rome and the lives of the Christian desert monks of late Roman Egypt. His passion is to facilitate students in their intellectual and spiritual development, primarily through the medium of a rigorous, biblically-centered classical education, to the greater glory of God.
---
Meet the leadership at Patrick Henry College...