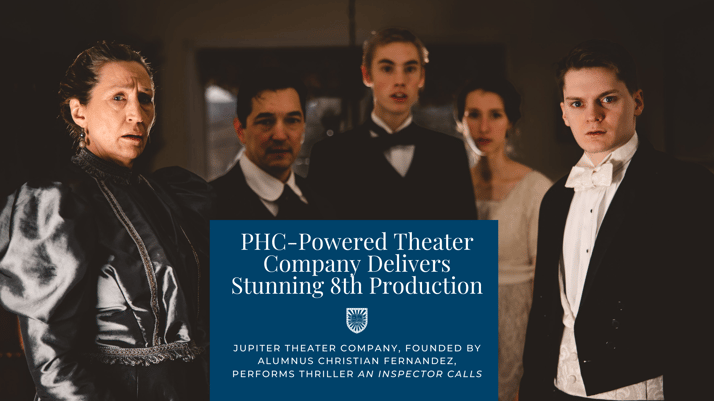 "We don't live alone! We are members of one body. We are responsible for each other."
The lights are low, the theater hushed except for the Inspector's booming voice. The audience surrounding the stage can't tear their eyes from the actor playing the Inspector, who's working towards getting the Birling family to admit their guilt. The audience is caught up in the murder mystery. A girl has died, and each of the Birlings had made decisions that impacted her. Were any of them responsible for her death?
Jupiter Theater Company (JTC), a local acting troupe founded by Patrick Henry College alumnus and professor Christian Fernandez ('16), held a powerful performance of J.B. Priestley's classic psychological thriller, An Inspector Calls, last weekend, February 3-6.
PHC alumni filled the playbill, including director Grace Richardson ('17) and actor Gabriel Blacklock ('20). PHC literature professor Dr. Cory Grewell played Arthur Birling, the patriarch of the Birling family.
The play, written in the 1940s and set in 1912, explores themes of social justice, loving one's neighbor, and personal responsibility.
"J.B. Priestley, who wrote the play, was apparently a dyed-in-the-wool socialist," Grewell said. Grewell noted that social justice can, in some ways, be incorporated into both Christian and Marxist worldviews. "Because Priestley wanted the audience to think about [the play], it didn't out itself as socialist," Grewell continued. "Because of that, it can also be read with a Christian morality, which is how we tried to produce it."
JTC's plays aren't evangelistic, but are designed to stimulate thought. Each play incorporates Shakespearean thrust staging into the performance, which means that the audience surrounds the stage—each seat offers a slightly different perspective.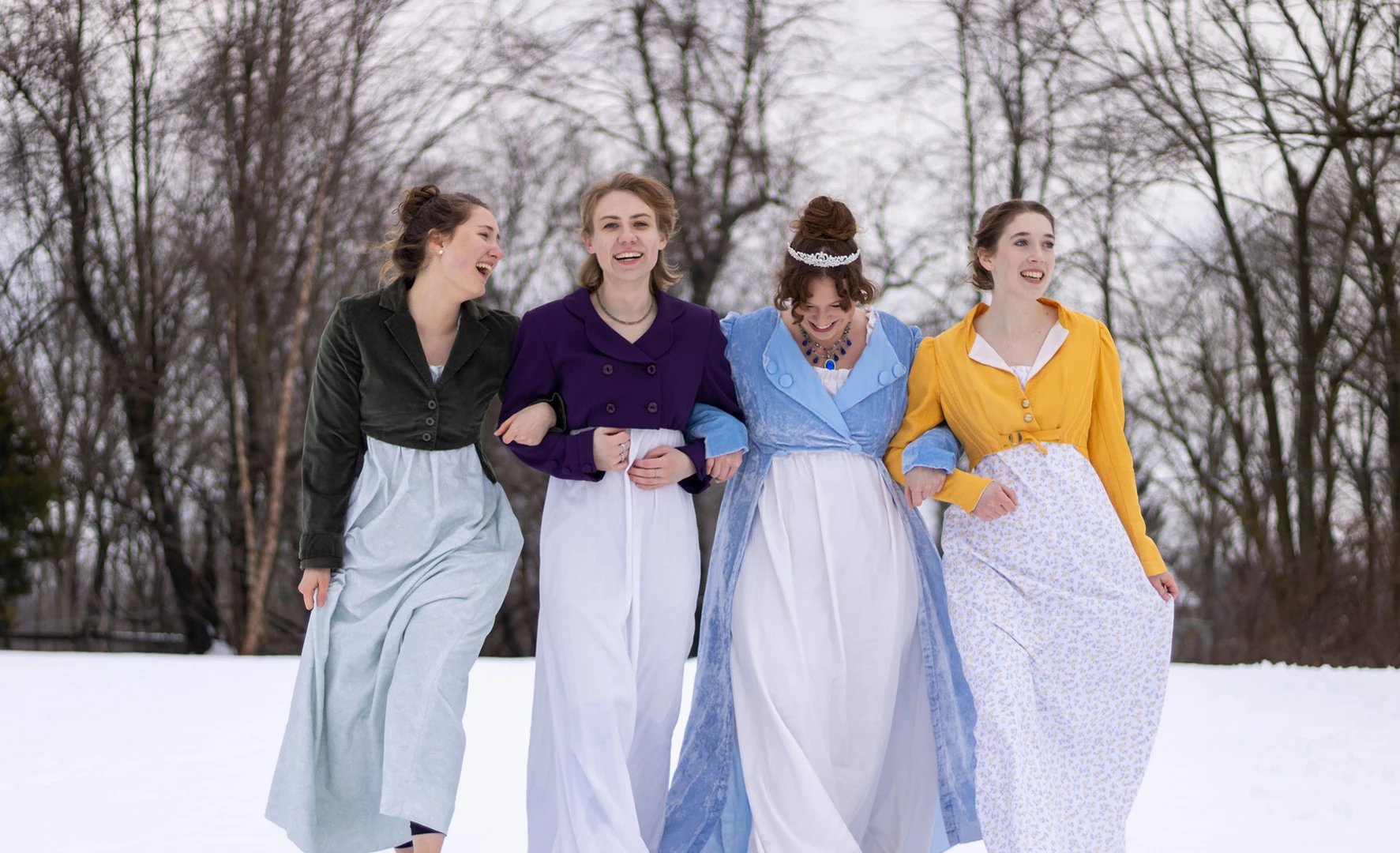 Four JTC actors in the 2021 production of Love's Labour's Lost, three of whom are PHCers ('24, '19, and '22).
Although many of the actors and producers of JTC's shows are PHC students and alumni, An Inspector Calls was JTC's first play to cast actors who were the same ages as the characters they performed. This lent a greater sense of reality to the show.
The play ended with unresolved questions. Would any of the characters ever take responsibility for the way their actions impacted others? The answer was left up to the audience's imagination. None of the characters who appeared on stage were very likeable; each had serious yet realistic flaws.
Because of this, each viewer could likely see a bit of themselves reflected in the characters—a scary thought, but a motivating one. Let us not make the same mistakes as the Birlings; let us love our neighbor.
Later this spring, JTC will be putting on Hunchback, an original theatrical adaptation by alumnus Jimmy Waters ('17) of Victor Hugo's classic novel. More information about past and future productions can be found on JTC's website.
------
PHCers come from a wide background of interests and skills, but love for Christ and dedication to excellence unite us all. Learn more about what makes Patrick Henry College unique from any other institution below: