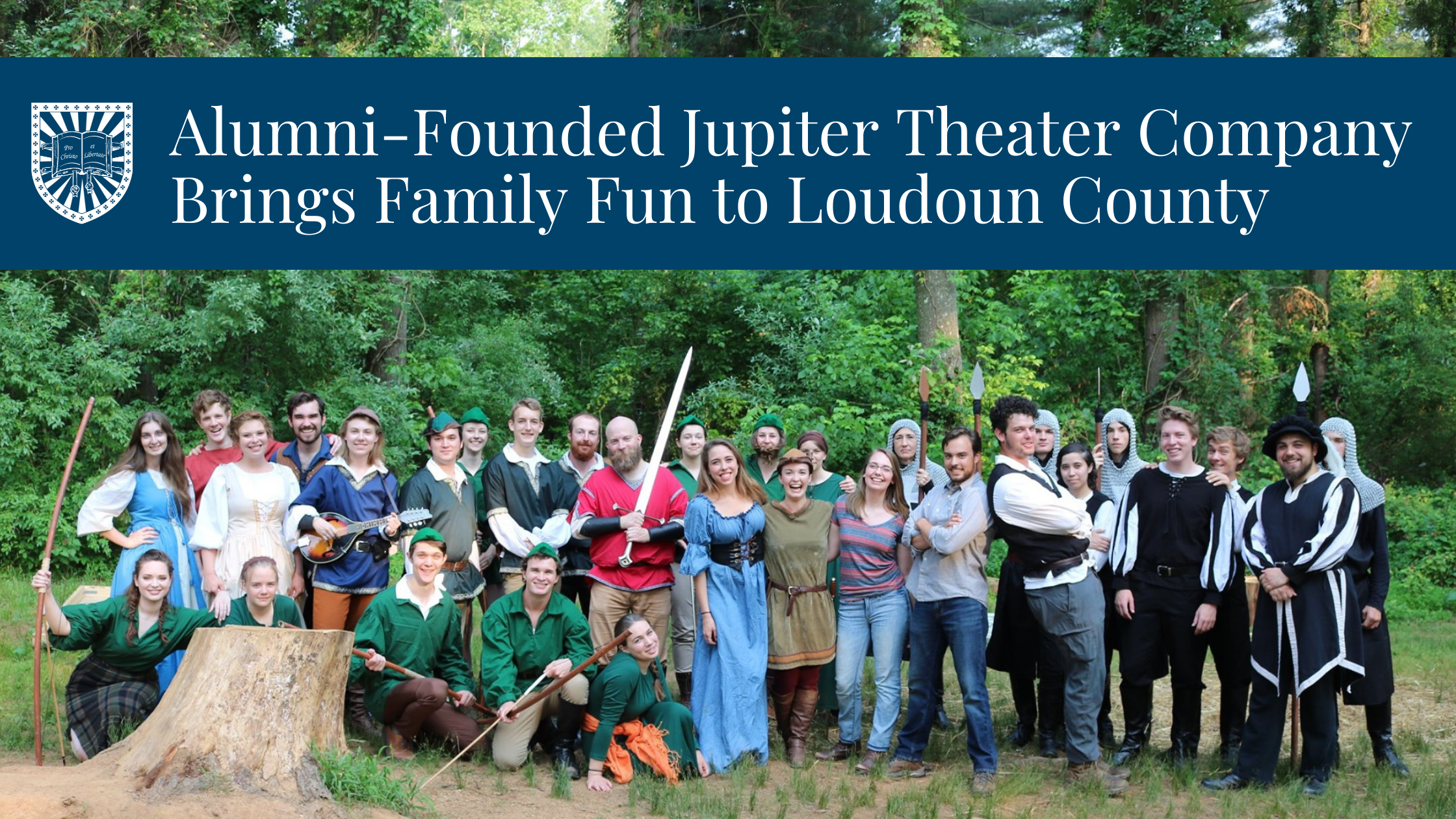 Jupiter Theater Company (JTC), founded in 2019 by PHC alumnus and current professor Christian Fernandez ('16), lies close to the Patrick Henry College's campus in northern Virginia. The company, made up of both PHC alumni and local community members, produces several plays a year.
"We are doing classical, traditional theater, but the purpose is to communicate the good, the true, and the beautiful," said alumnus Elias Gannage ('20), who has been involved with the company since its first production.
After alumni graduate from PHC, they still search for the good, the true, and the beautiful. After Fernandez graduated, he moved to Stanton, Virginia to study Shakespearean performance in graduate school. To practice what he was learning while there, he joined with a few friends in the area and directed an outdoor performance of Shakespeare's As You Like It—Jupiter Theater's first production.
"We just submitted it to the Lord, saying, 'It'd be great if we could do more of these, but let's just take this one. If the Lord blesses it, we'll keep doing it,'" Fernandez said. "'If not, if it's just meant to be a one-hit wonder, it was a fantastic time doing it.'"
The Lord blessed it and the company made a profit, so they had the funds to put together another play. Staying true to its roots, JTC has performed several plays by Shakespeare, including Much Ado About Nothing and Love's Labour's Lost.
For the company's performances of Oscar Wilde's The Importance of Being Earnest and J.B. Priestley's An Inspector Calls, the directors incorporated Shakespearean elements like condensed rehearsal schedules and thrust staging, where the audience surrounds the stage.
When Fernandez settled on the company's name, he hoped to channel the jolly that the Greek god Jupiter is associated with in Gustav Holst's orchestral suite The Planets. Not only does JTC keep ticket prices low and plays wholesome so that the entire family can attend, Fernandez also wants to ensure the actors enjoy their work. "We want it to be a realm in which people can tell the stories that they want to tell," Fernandez said.
"It's very unapologetically Christian, and that is very rare," said senior Rachel Cochrane, who has acted in several Jupiter plays. "We begin every rehearsal and start every show with prayer." Indeed, the liberal arts, Christianity, and theater seem to be woven together.
"One of the biggest things that we are working towards in a liberal arts education is a deep understanding of human nature," said Literature professor Dr. Cory Grewell, who has performed in two JTC plays. "That's a huge reason that we read so much of the literature that we read, and acting certainly provides an opportunity to exercise another avenue of that."
As long as the community continues to support JTC, it's sticking around. "Jupiter, like any theater company startup, is at the mercy of the community it exists in," Cochrane said. "As much support as we can give Jupiter, the better. It's a rare jewel."
Later this spring, JTC will perform Hunchback, an original theatrical adaptation of Victor Hugo's classic novel by alumnus Jimmy Waters ('17). More information about past and future productions can be found on JTC's website.
-----
PHCers come from a wide background of interests and skills, but love for Christ and dedication to excellence unite us all. Learn more about what makes Patrick Henry College unique from any other institution below: