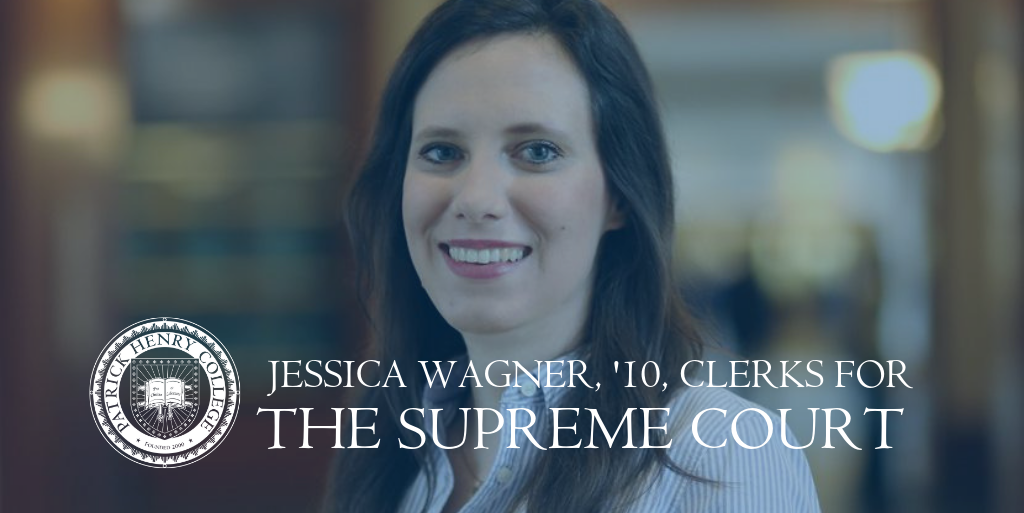 Jessica Wagner, a 2010 graduate from Patrick Henry College, will clerk for Justice Samuel Alito, beginning in October.
"When I went up for the interview and then came out of it, I had a sort of pinch-myself moment," Wagner told a media contact at the University of Virginia. "I had just spent 45 minutes with a Supreme Court justice."
Wagner earned a bachelor of arts degree (summa cum laude) from Patrick Henry College's government program and was the 2010 recipient of the Trustee's Academic Excellence Award. She went on to study at the University of Virginia School of Law and graduated in 2015, receiving the Thomas Marshall Miller Prize, an honor annually bestowed on the part of the faculty to an outstanding student. She will be Patrick Henry College's fourth graduate to clerk for a justice of the Supreme Court of the United States.
While the position of justice clerk may sound like another term for secretary, nothing could be farther from the truth. According to the Columbus School of Law, clerks are required to conduct legal research, draft opinions, perform legal analysis, and brief judges. As such, Wagner's responsibilities will in no small way play a role in preparing and informing a member of the highest court in the land.
This won't be Wagner's first time clerking for a judge. In the past, she has clerked for Senior Judge Diarmuid O'Scannlain in the Ninth U.S. Court of Appeals and Judge Jerry Edwin Smith in the Fifth U.S. Circuit Court of Appeals.
Wagner's appointment adds another chapter in Patrick Henry College's strong legacy of commissioning godly men and women into leadership at the highest level. Patrick Henry College exists to prepare Christian men and women who will lead our nation and shape our culture with timeless biblical values and fidelity to the spirit of the American founding.
High Academic Rigor
Fidelity to the Spirit of the American Founding
Unwavering Biblical Worldview