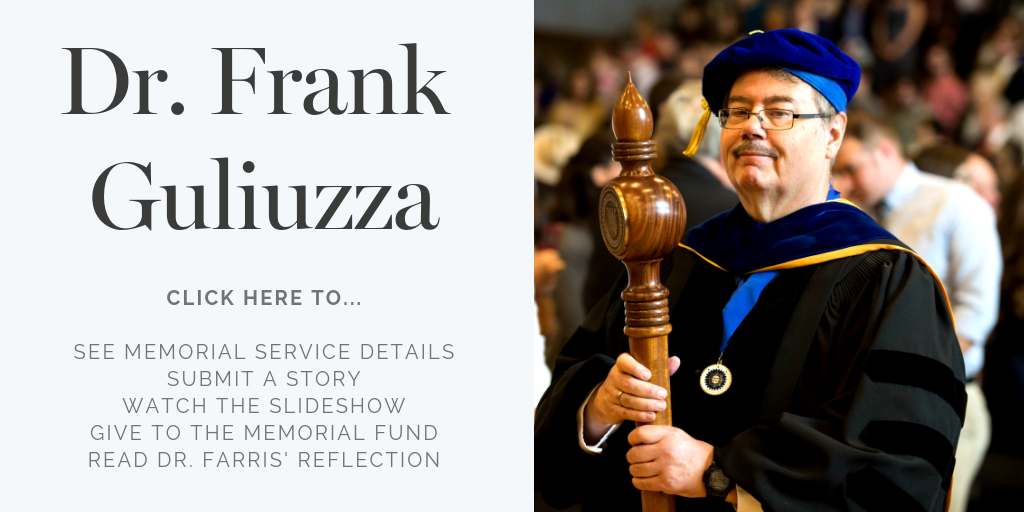 Dr. Frank Guliuzza, PHC's Professor of Government, Dean of Academic Affairs, pre-law adviser, and forensics coach, passed away last week in his sleep. The Patrick Henry College community joins his wife, Ann, and son, Matthew, in grieving this tremendous loss. He was a mentor, friend, and father-figure to countless students, alumni, staff, and faculty. He will be sorely missed.
Click here if you'd like to...
Below is a copy of the letter President Jack Haye released Tuesday morning.
Dear PHC Family,
There are some emails that are harder to write than others. This is one of those. It is with great sadness that I am writing to tell you that Dr. Guliuzza passed away in his sleep last night. At this moment, he is in the presence of the LORD and probably reflecting on his Sunday's Comin' sermon. Sunday did come for Dr. G last night. Hopes beyond hopes fulfilled. A life fully lived for God's Glory.
This is truly a void that only God can fill. We will let you know as we get more information about the various arrangements. Today, please take some time to pray for Ann and Matt, to remember, to tell Dr. G. stories and to thank God for his faithful life. The best really is yet to come but for now our hearts are broken… President Haye
Thessalonians 4:13-18 13 "Brothers and sisters, we do not want you to be uninformed about those who sleep in death, so that you do not grieve like the rest of mankind, who have no hope. 14 For we believe that Jesus died and rose again, and so we believe that God will bring with Jesus those who have fallen asleep in him. 15 According to the Lord's word, we tell you that we who are still alive, who are left until the coming of the Lord, will certainly not precede those who have fallen asleep. 16 For the Lord himself will come down from heaven, with a loud command, with the voice of the archangel and with the trumpet call of God, and the dead in Christ will rise first.17 After that, we who are still alive and are left will be caught up together with them in the clouds to meet the Lord in the air. And so we will be with the Lord forever.18 Therefore encourage one another with these words."