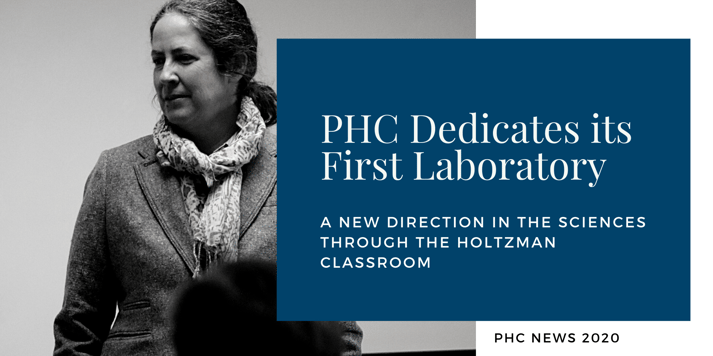 The dedication of the Holtzman Lab at Patrick Henry College isn't just about a new classroom. And yes, it's about more than an organic chemistry lab at PHC. The new wet lab is part of this new chapter for the students at PHC—and specifically, those in the new Environmental Science and Stewardship (ESS) and Pre-Med advising programs that launched last academic year.
The Holtzman Laboratory provides the environment needed to take students to the next level of scientific inquiry, and at Patrick Henry College, all scientific inquiry is done in submission to a knowledge of God. All is done for Christ and for liberty.
On November 18th, a group of PHC faculty members and representatives from Holtzman Energy came together to pray over and officially dedicate PHC's newest learning space.
Four key faculty members are the powerhouse of the ESS program; Dr. Mark T. Mitchell, Dean of Academic Affairs and Professor of Government, Dr. Tracey McGrath, Assistant Professor of Math and Physics, Dr. Marissa Walraven, Assistant Professor of Chemistry, and Dr. David Lee, Assistant Professor of Biology and Earth Science.
Dr. Marissa Walraven, with her Ph.D. in Chemistry and a specialization in Quantum Chemistry will help move the Environmental Science and Stewardship program forward. For her, the lab represents a change in the big picture of what the college will be able to do.
"It marks the beginning of a new era at PHC," Walraven said.
"PHC is known for its rigorous academics—we have done a fantastic job in the past at sending people to law school and to other areas of influence. But PHC didn't have the ability to send people to medical school or get people ready for careers in science policy. And this new lab signifies the start of our ability to offer the background they need to go into those kinds of science careers and influence the public sphere from that direction."
To read more about how the Environmental Science and Stewardship (ESS) major at Patrick Henry College uniquely prepares its students for the workforce, click below!