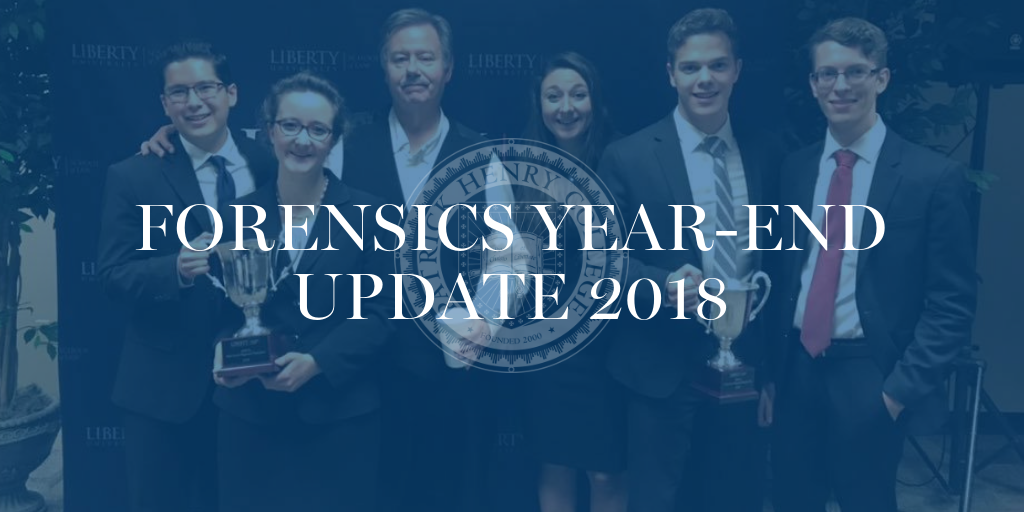 It's been another thrilling year for PHC forensic competitors. This season, PHC won a total of four regional tournaments. Now, as 2018 comes to a close, eight teams are preparing for the American Moot Court Association (AMCA) national tournament.
Below is the complete list of PHC competitors:
Thomas Doan & Benjamin Phibbs

Michael Patton & Keely Wright

Benjamin Crosby & Simon Sefzik

Marina Barnes & Kyle Ziemnick

Thomas Keith & Caleb Canna

Emil Meintjes & Andrew Shelton

Micah Bock & Samuel Bock

Clare Downing & Cooper Millhouse
The 2019 AMCA National Tournament will be hosted at Florida A&M University College of Law, Orlando, FL on January 12-13. Keep an eye out for tournament updates here at
phc.edu/news
or on any of our social media platforms including
Facebook, Twitter, Instagram, and LinkedIn.
PHC teams have won the national AMCA tournament 11 times since 2005. To watch the recordings of past national championship rounds featuring Patrick Henry College students, click here.
As the moot court season comes to a close, mock trial competitors are preparing for their Spring season. Teams for the 2019 season have already been formed and begun competing at practice rounds and tournaments this past fall, which you can read about here.
-----
To learn more about our world-class forensics programs at PHC, click the button below!