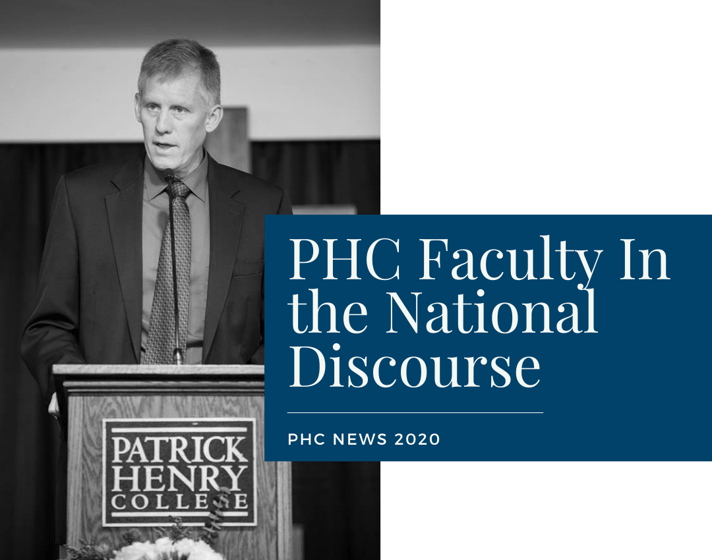 Dr. Mark T. Mitchell, the Dean of Academic Affairs at PHC, and Dr. Jesse Merriam, PHC's pre-law advisor, recently published articles in RealClearPolitics, National Review, and Law & Liberty.
As professors of government, Mitchell and Merriam both share a deep-seated concern for the country and an interest in how current events impact the nation's political, legal, and cultural trajectory.
Mitchell authored "Institutions Matter" for the National Review and "Middle-Class America and the Spirit of Revolution," in RealClearPolitics. Merriam published his most recent article, "Whose Precedent? Which Originalism?" in Law and Liberty.
In both of his latest works, Mitchell calls out against the degradation of American institutions such as the family and democratic self-governance, reasserting a need for individual citizens to look beyond tribalism.
Dr. Merriam's work features an examination of the legal doctrine of stare decisis.
These most recent articles are the latest in a long line of efforts to join in and contribute to an ongoing public discourse in a meaningful manner and provide students at PHC with examples of how to meaningfully engage with the surrounding culture.
Both Mitchell and Merriam have devoted years of work to their respective careers and areas of study. Mitchell has spent the past 18 years teaching students at PHC what good government looks like, and from 2008 to 2009 was a fellow at the James Madison Program in American Ideas and Institutions at Princeton University. Merriam worked as a professor of political sciences at Loyola University and was recently nominated by the Trump administration to serve on the National Council on the Humanities.
____
Click below to learn more about the faculty at Patrick Henry College!