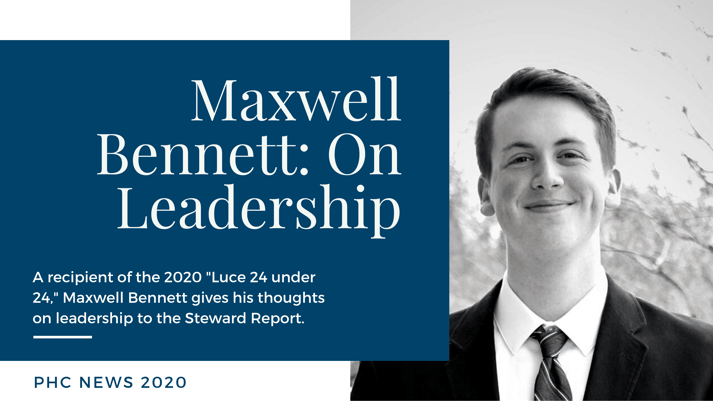 Maxwell Bennett, a recipient of the 2020 "Luce 24 Under 24 Award," recently wrote about leadership in The Steward Report, detailing how good leadership, both as a facet of experience and maturity, is a necessary component of a whole society.
"What makes something necessary?" Bennett asks his readers. "When I say necessary, I do not mean that something is merely beneficial, pleasant, or helpful. When we say necessary, we speak regarding a need… So what is it about today that makes young global leaders necessary?"
Bennett points out that leadership is needed because it provides a good example. He cites the work of Malala Yousafzai—the Pakistani activist and 2014 recipient of the Nobel Peace Prize. He notes that while Yousafzai's advocacy for education for women in the Middle East was good in and of itself, it was also of benefit because it was observed and recognized. In this manner, a platform given to good leadership is a platform well used. Inversely, however, a platform given to leaders without either maturity or experience can be hollow.
Bennett's assessment in The Steward Report denotes a clear understanding of what it means to have good leadership.
For a school like Patrick Henry College, dedicated to equipping young men and women who will lead the nation, the concept of leadership is an important one. More than merely aiming to put students in positions of leadership, Patrick Henry College aims to cultivate a correct understanding of what excellent leadership looks like.
____
Click here to learn more about the philosophy of education at PHC!