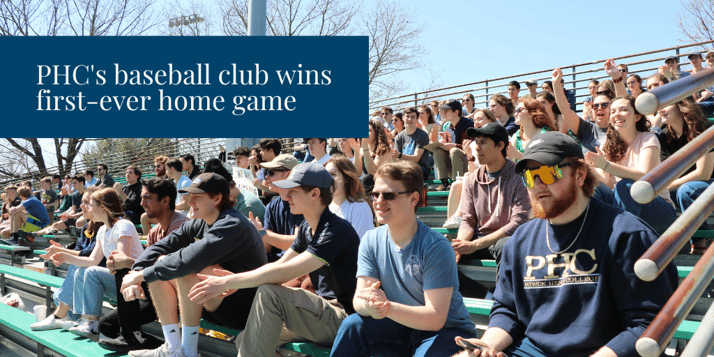 The crowd cheered as the Sentinels entered the bottom of the first inning. Senior Loren Campbell stepped up to the bat. His dream walk-up song in honor of Texas Ranger Ian Kinsler, "Black Betty," played in the background. With bases empty, the pitcher threw a fastball. Campbell responded with a swing and a hit. Seeing the fielder drop the ball, Campbell raced past first base. The dust kicked up behind his heels as he finally skidded to a stop at third base. The crowd's energy soared, and freshman Ryan Slemmer stepped up to the plate.
Patrick Henry College hosted its first baseball home game on Saturday, April 1 at Fireman's Field in Purcellville. The PHC Sentinels took home a victory against Vaughn College from East Elmhurst, New York. Campbell and first baseman Garrin Rose each hit four RBI's (runner's batted in). Pitcher David Stokarski struck out seven batters over three innings. Centerfielder Peter Smith hit an inside-the-park home run.
Co-captain Campbell has played baseball his entire life. Arriving at PHC four years ago, he grew excited about their baseball club. However, he soon realized that with very little commitment and even fewer games, the club barely existed. Last year, Campbell decided to revamp the baseball club. He wanted to finish out his college years with some good baseball and leave a solid team for incoming freshmen to enjoy. This required gaining commitment from the student body as a whole.
First up to bat: team uniforms. "If we got like the newest jerseys on campus, people were going to be interested," Campbell said. He found a design website and sent out the link to the baseball club. Everyone turned in their ideas for uniform design, and the club voted to choose the best one.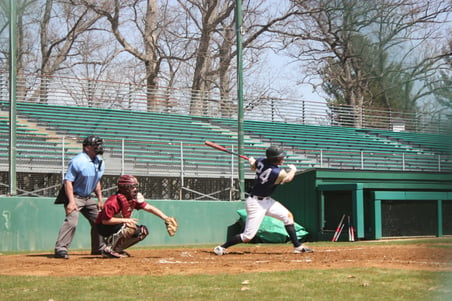 They repeated the same process this year for club caps. "That got people invested in what baseball was going to look like," Campbell said. Word of the revamped baseball club began to spread. Project one had made it to first base.
Second up to bat: fundraisers and chapel announcements. Over the last year, Rose announced baseball fundraisers in collaboration with Chipotle and the American Politics and Policy (APP) board to the student body. Rose promoted the club whenever they had a game later that week, inviting students to attend. "To excel in school, … careers, and life … you need to take breaks," Rose said. "I think going to our home games is a great break because you get to go with the community, get to cheer on your friends, and it's a fun time." Project two brought the Sentinels to second base.
Third up to bat: this year's freshman class of baseball players. "We got a lot of competent freshmen coming in who know baseball, [who] are excited to play," Co-captain Spencer Hamilton said. "They want to play, they show up, and they know what they're doing."
While the Sentinels took home a victory on April 1, the players recognized the slow pace of the game. Each person had to exercise restraint and realign their pace to their opponents in order to play well. Hamilton recognized the growing discipline of the freshmen throughout the game and looks forward to their leadership in next year's club commitments. "It was really cool to see a lot of hard work … acknowledged and supported by the student body as a whole," Campbell said. Project three brought PHC one base away from home plate.
Campbell stood at third base. Slemmer stepped up to the plate. The PHC crowd cheered in anticipation. The pitcher threw a curveball. A swing and a hit. Slemmer dashed to first base. Campbell sprinted for the plate, taking it home for PHC.