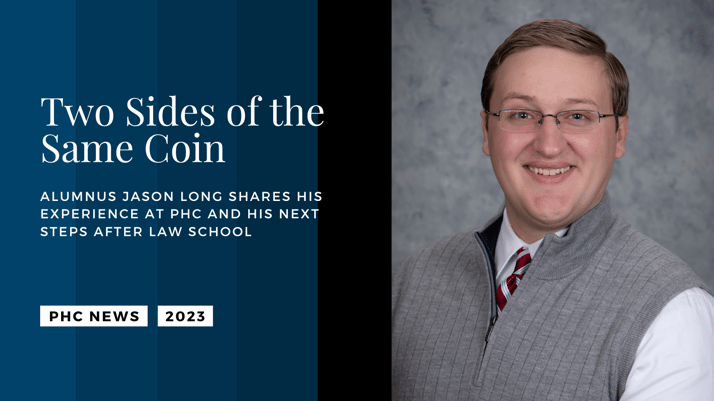 This past October, alumnus Jason Long (EBA '17) and his tournament partner, Anthony Licata (representing GW Law in the tournament), competed against PHC alumnus Daniel Thetford (APP '18) and his tournament partner (representing The Antonin Scalia School of Law at George Mason) in the Notre Dame Religious Freedom Moot Court Tournament. Long and his partner took second place in brief writing and second place overall. "I had to do this competition because it is a topic that is very near and dear to my heart," Long said.
The competition, which focuses on religious freedom, centered around the question of a religious school firing a teacher for unorthodox teaching. One of Long's main arguments was that every area in education is subject to religion—nothing can be parsed out from theology. "[It] was mind-boggling to most people because there is this idea that there is science in secular subjects and then there is theology in theological subjects," Long said. "But if you look at the history of Western tradition, you look at the history of the Christian faith, all subjects are subject to theology. … As Dr. Mitchell likes to point out, theology is the queen of the sciences."
Long pointed out that PHC is a unique place where education is united through theology. This unified theory of theology creates the realization "that everything we do and everything we learn is first and foremost an exercise of faith and an exercise of worship."
After hearing about PHC in middle school, Long decided that he wanted to attend. He desired to go to law school, but after taking Economics for the Citizen with PHC Professor Nathan Russell, he fell in love with economics.
Instead of doing a complete career switch, Long decided to pursue both of his passions, since economics and law are two sides of the same coin. "Economics asks questions about what choices individuals make in the world of limited resources and unlimited desires," Long said. "Economics looks at the law, the structure in the institutions surrounding those choices and guiding [them] … in society." Long quickly realized that studying economics would make him a better lawyer and being a lawyer would make him a better economist.
After graduating from PHC in 2017, Long attended Clemson University to pursue a masters in economics. Thanks to his education at PHC, he hit the ground running. During his second year, he was the Instructor of Record for undergrads at Clemson. "I think the best things PHC does [is] teach you how to analyze complex problems and break them down," Long said. Unlike his fellow classmates who studied by rote memorization (regurgitating information), Long followed the formula PHC presented to him as a student. "[I was] not just taking information at face value, but [was] analyzing the information, testing new information, and then learning it in a way [to] take it and teach others."
After he graduates from the George Washington University of Law, Long plans to clerk for Justice Jamie R. Grosshans in the Florida Supreme Court and then for District Judge John W. Broomes in the district of Kansas. He eventually hopes to get into corporate litigation and maybe antitrust work. "I found that I love litigations, and I love that conflict [of] searching for the truth."
For students, Long had two pieces of advice. "It is okay to let your plan go [if] the Lord is leading you down a path that you did not see coming. And do not be afraid to reach out to professors in a very personal way outside [of] class … at PHC, they uniquely want to help mentor students." Long himself was mentored by several professors, including Professor Russell, Dr. Robert Spinney, and Dr. Frank Guliuzza. "Even if we think something is going wrong, like [with] Joseph, [God] is still working everything out for good."