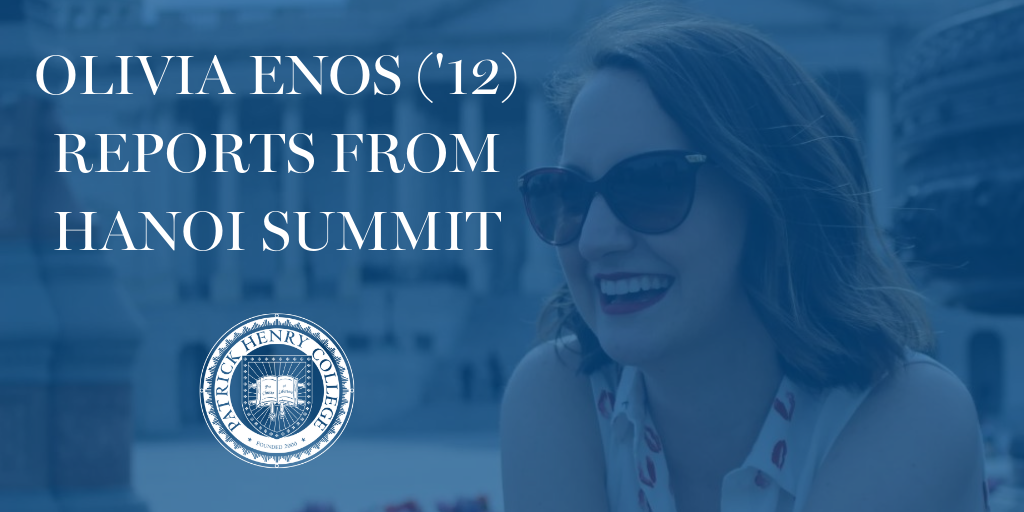 Olivia Enos (Government, 2012), Policy Analyst at the Heritage Foundation's Asian Studies Center, is reporting on the Hanoi Summit in Vietnam this week, where President Donald Trump and North Korean leader Kim Jong-un are slated to discuss denuclearization and human rights issues.

The Heritage Foundation selected Enos (and three of her colleagues) to cover the summit. A colleague called it, "the best group of experts in the country." Enos has specialized in human rights and transnational criminal issues at the Heritage Foundation.
It's #HanoiSummit week, and @Heritage has, quite simply, the best group of experts in the country ready to preview and respond to developments with can't-miss analysis!@BruceKlingner @OliviaEnos (from Hanoi)@Brookes_Peter @JJCarafano
Dean Cheng pic.twitter.com/Az8j0djvAy

— John Cooper (@thejcoop) February 24, 2019
Last Friday, she published a comprehensive report on the humans rights conflict between the United States and North Korea titled, "Leveraging U.S. Law to Advocate for Human Rights in Talks with North Korea." You can read the full report here. Major news stations like Fox immediately began discussing it.
Enos, who is also a regular contributor to Forbes, wrote this piece earlier in February pushing for more human rights talks between President Trump and Kim Jung-un.
Sharing some of my thoughts on the lack of progress on #denuclearization since the #SingaporeSummit ahead of the second meeting between @realDonaldTrump and Kim Jong-un at the #HanoiSummit. Stay tuned for more updates on #NorthKorea in the days ahead. pic.twitter.com/zeykqnlRL6

— Olivia Enos (@OliviaEnos) February 22, 2019
She also discussed the situation with Shannon Bream on Fox News @ Night where, incidentally, alumna Kendra Olson ('17) is a Production Assistant. You can watch the segment here.
After reporting on the summit, Enos is hoping to finalize the adoption of her new dog, Cosette.
We think we have a strong lead to get Cosette back to DC. Will keep everyone updated once details are finalized. Isn't she looking better already? ♥️ pic.twitter.com/6z1LyObq13

— Olivia Enos (@OliviaEnos) February 23, 2019
-----
Read more about Enos' life and work in D.C. on her alumni profile page, or check out other alumni stories by clicking the button below...