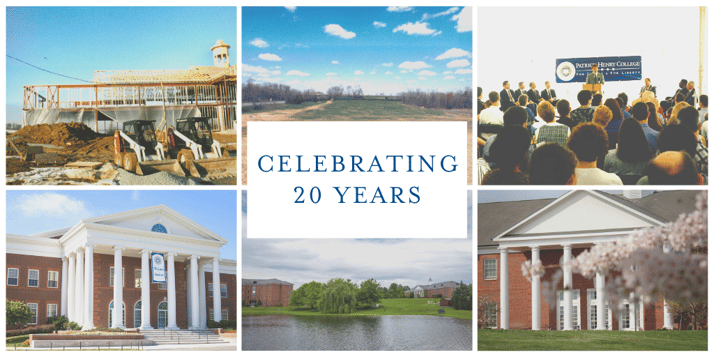 Twenty years ago, Patrick Henry College opened its doors with eight faculty members and 87 pioneering students. PHC quickly attracted national attention for the extremely high quality of its academic programs and its graduates' success.
Over the past two decades, PHC has developed a reputation as one of the truly elite Christian institutions of higher education in the country. Examples include:
PHC students have an unmatched record in collegiate forensics competition and have won 12 national moot court championships within a 15-year period.

PHC's pre-law advising program is among the best in the nation with graduates accepted and thriving at top-tier law schools.

PHC is a top feeder school for White House and Capitol Hill internships.

10 PHC graduates are currently serving in the White House staff.

Four PHC graduates served as United States Supreme Court clerks within a four-year period.

PHC's Strategic Intelligence in National Security program has been awarded the International Association for Intelligence Education (IAFIE) certification and is a pipeline to graduate success at the FBI, CIA, and the Department of Homeland Security. PHC is the only Christian institution with this distinction and only the second undergraduate program in the nation to obtain this certification.
The bedrock of PHC's academic program is its commitment to the classical liberal arts, and therefore, provides an extensive 63-credit classical core curriculum—twice the minimum required of baccalaureate-level liberal arts programs in Virginia—founded on the great texts and ideas that have stood the test of time, starting with the Holy Scriptures.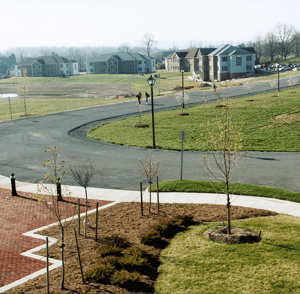 Constitutional attorney, Michael P. Farris, LL.M., is president and CEO of Alliance Defending Freedom and is the founding president of both the Home School Legal Defense Association (1983) and Patrick Henry College (2000) and continues to serve as chairman of the board of HSLDA and chancellor emeritus of PHC. Mr. Farris said, "There is a leadership vacuum in America … It has always seemed to me that it will be the next generation who will really reclaim our land for the principles of godly morality, self-government, and constitutional liberty."
To that end, PHC was birthed to challenge the status quo in higher education with the vision to restore America by educating the best and brightest Christian students to take their place as future leaders of the nation and its culture. PHC is the answer to question, "Is there a college that parents could trust for high academic rigor, fidelity to the spirit of the American founding, an unwavering biblical worldview, and a nurturing spiritual environment for gifted young students?"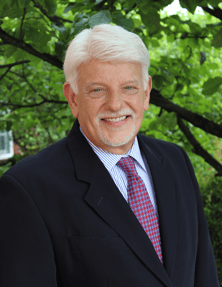 Jack W. Haye, a 30-year veteran of the corporate banking world and the inaugural chairman of the Board of Trustees for Patrick Henry College, was named president of the college in 2015. Mr. Haye said, "Patrick Henry College will have a unique opportunity over the next few years to be a significant voice in the national conversation. Our culture is rapidly changing. As a result, there is a great need for young leaders who understand what it means to live integrated lives in which both faith and reason inform all aspects of their experiences. It's a big task that will require conviction, tenacity and creativity."
Howard Schmidt is the Executive Vice President of the College and also serves a Director of the Economics & Business Analytics Program. Howard has over 35 years of experience in industry with over 25 years in executive roles. Since the inception of the college, Howard has served as a major donor, a member of the Foundation Board, and a member of the Board of Trustees. Mr. Schmidt says, "Patrick Henry College was created to fill a critical void in higher education. One of our goals is to train some of the best and brightest Christian young men and women to lead at the national level."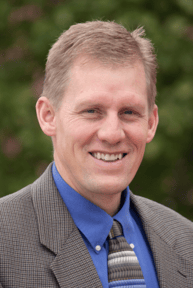 Mark T. Mitchell, Ph.D., is the Dean of Academic Affairs and Professor of Government at Patrick Henry College. Dr. Mitchell says, "At Patrick Henry College, we are committed to teaching students how to pursue the good, the true, and the beautiful with steadfastness, grace, and courage. In the process, students have the opportunity to find and pursue their unique vocations by which they can most effectively serve others. In uncertain times, our calling as Christian educators remains unchanged: to train young people to seek justice, love mercy, and walk humbly with their God."
Patrick Henry College does not accept any federal or state funding; one of only 13 U.S.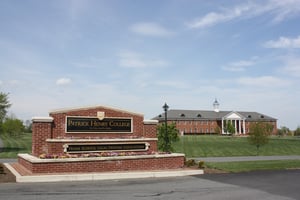 institutions of higher education and four seminaries to hold this distinction. PHC is committed to robust classical liberal arts training as a Christian mission with a biblical worldview. Graduates are virtually incomparable in terms of their ability to think logically, communicate persuasively, and represent the cause of Christ faithfully.
Visit our "About" page to learn more about the one-of-a-kind academic program at Patrick Henry College.