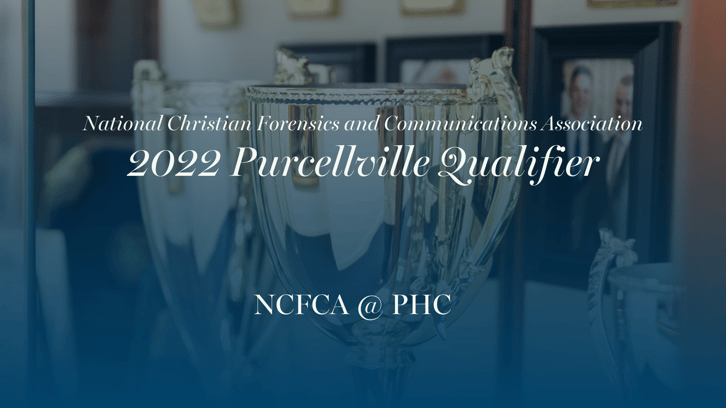 NCFCA is "on a mission to equip ambassadors for Christ to communicate with integrity and grace. Through onsite and online tournaments, NCFCA Christian Speech & Debate challenges students to grow their communication skills."
Why we believe that excellence in communication is important
We believe that God calls Christians to serve in all areas of social and public life, including law and government. By training leaders to reason and communicate effectively, PHC empowers Christian students to excel in their sphere of influence and thereby convey the truth and glory of God.
On January 6 – 8, 2022, PHC hosted the National Christian Forensics and Communications Association (NCFCA) Regional Tournament called the Purcellville Qualifier.
Volunteer Judges Are Critical to Their Mission.

The lifeblood of each tournament is the crew of community judges. The judges for each round are volunteer members from all walks of life who get encouragement from listening to inspiring and entertaining presentations and debates. Community judges provide valuable feedback for students who are challenged to develop their critical thinking and public speaking skills.
Get involved!
Are you are at least 18 and not currently enrolled in high school? Then, you are qualified! NCFCA staff and volunteers will provide the training to ensure that you will be an effective judge.
-----
Want to know why we think speech and debate training is important? Watch
"The Purpose of Communication."
-----
Learn more about the Pre-Law advising program at PHC