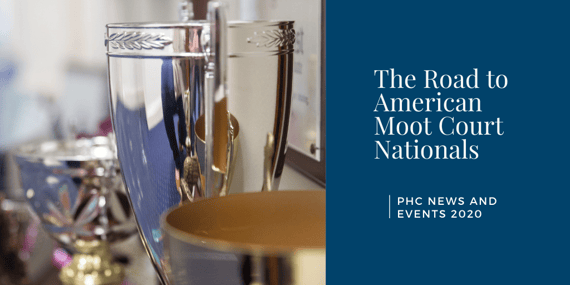 As we prepare to turn the page on the year, it's time to announce the students that will represent Patrick Henry College at the 2021 American Moot Court Association National Championship in January.
Making Good On Promises (and Visions)
Twenty years ago, PHC's founder, Michael Farris, had a vision for the College to win the national championship in moot court within just five years of opening. Fifteen years ago, he saw that vision become a reality when Peter Kamakawiwoole and Sarah Wilson brought home PHC's first national title.

As of this season, PHC students have earned 12 of the past 15 National Moot Court Championships. No other college has earned more than 1. Peter and Sarah kicked off a legacy of big wins for PHC, and today, Peter Kamakawiwoole ("Coach K") is the head coach of the Patrick Henry College Moot Court Program.

This season, 13 PHC teams qualified for Nationals, and several others placed well enough at their regional competitions to make AMCA's "at large" bids. Of the 13, PHC is permitted to send eight teams to the National Competition.

Coach K shares, "Nationals is January 22-24 and these teams have committed to a pretty rigorous prep slate between now and then, with the bulk of the work to occur during our annual 'boot camp,' which is on January 16 and 17."

Why It Matters
Over the past two decades, PHC has developed a reputation as one of the truly elite Christian institutions of higher education in the country. One tangible example is PHC's unmatched record of success in forensics.

But being the best in the nation is not an end in itself…

The conviction that fuels the program and gives students the resolve for excellence in collegiate forensics is the aim of being the best communicators. But why? The goal of all that is done at PHC is that of equipping godly men and women who will lead our nation and shape our culture with timeless biblical values. But why? For Christ and for liberty!

Is It Working?
PHC is a top feeder school for White House and Capitol Hill internships.

10 PHC students have served in the White House staff.

Four PHC graduates served as United States Supreme Court clerks within a four-year period.

3 PHC alumni have served as press secretaries concurrently in the White House, Senate, and House of Representatives.
PHC grads are routinely published in the New York Times, USA Today, Washington Post, WORLD Magazine, and are regularly appearing on FOX News and CNN.
PHC grads are excelling at the FBI, CIA, and the Department of Homeland Security.
The Road To Nationals 2021
This week, Coach K announced the names of those students that will be representing PHC in January. In a message to all of the students in the program this year, Coach K said, "We prepare as a team, we compete as a team, we succeed as a team. Thanks for all your hard work preparing and competing during this compressed semester. However the final chapter ends, it will have your fingerprints all over it."

Forensics Program Director Sue Johnson agrees, "The college is grateful for the hard work and dedication of all of our moot court students and coaches. I am excited to see how the Lord continues to bless their efforts at Nationals and beyond."
These are the eight teams that will be representing PHC next month:
Sarah Crosby and Lauren Rule

Adam Rauhauser and Joshua Schumacher

Noah Farley and Edmund Hurty

Joshua Reeves and Thomas Keith

Bethany Loos and Calvin Huh

Riley Anderson and David Bainbridge

Hope Turner and Isaac Bock

Tyler Dunning and Simon Sefzik

Remember to pray for these teams!
To learn more about PHC's unique formula for equipping godly leaders, read about The PHC Formula.