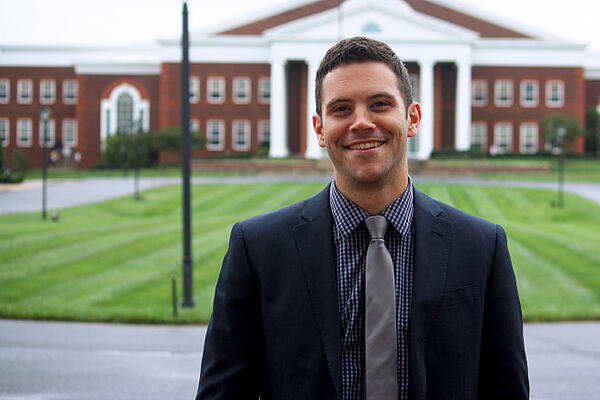 "A lot of what a Development Officer does is build relationships, and for Patrick Henry College we build relationships with the College's friends and supporters around the country," PHC Development Officer and former Vice President of the Student Body Paul Devamithran said. "Ryan does really well and did that as a student and after he graduated all over the world."
In 2010, Gilles traveled to Zambia for a summer mission trip. There, he saw the need for good storytelling and the potential of telling stories from a God's eye perspective. When he graduated from PHC, Gilles joined a small media team composed of a writer and photographer for ITeams, a global non-profit organization that seeks to change communities worldwide through integrated community transformation and helping the oppressed. After raising support for his trip, Gilles spent over a year visiting 13 different countries and working in 11 different countries, sharing testimonies and documenting ITeam's work.
He spent his first month in Athens, Greece where he lived with Ahmad, a refugee from Afghanistan who had moved from one hostile environment to another. One day, Ahmad showed Gilles the park bench that he had slept on for a year and shared the story of how he fought for his wife and baby. The two men cried together as Ahmad showed what it meant to be in a perpetual state of not belonging.
"There is a common need to be known and to belong," Gilles said. "But even though Ahmad was in the midst of so much struggle, in the Lord he had found a sense that he did belong."
By the end of that month, Gilles and Ahmad felt like brothers and still remain in regular contact. "We talk about what it means to be human at PHC and getting to see that in a practical sense was just really powerful," Gilles said. "Seeing the common threads of what ties people as humans together will always give me a heart for people who feel displaced," he said.
In July 2013, Gilles returned to the U.S. and transitioned to ITeam's home office in Chicago to recruit people for short-term and long-term service.
Today, Gilles is involved with Lutheran Social Services of the National Capital Area of D.C., helping resettle refugees who get a visa and move to the United States.
"Ultimately, the reason that people support the College is because they want to see students lead and serve our culture," Gilles said. "I get to tell them what that kind of impact meant for me, how PHC does a good job of preparing students to be so well-rounded," Gilles said.
When the job for Development Officer became available, Gilles was the first person Devamithran thought of. "This was the perfect opportunity and it fits his skill-set really well," Devamithran said. "We're so excited to leverage his skills in cultivating relationships with PHC's broader community."
In his new position, Gilles will travel around the country acting as a liaison to help people connect with and support the College.
"I'm so excited about helping the College move forward in some really significant ways," Gilles said. "This is a great opportunity and experience of what it looks like to advocate for a cause and build strong connections with different people all over the country."