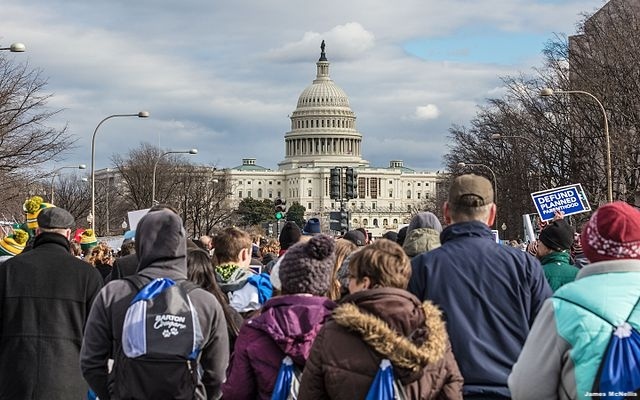 Every January, thousands of pro-life Christians and Americans march the streets of D.C. in recognition of the sanctity of human life.
This year, Patrick Henry College students, staff, and faculty will lead those thousands in the 2018 March for Life.
March for Life organizers name two "lead colleges" each year, one Protestant and one Catholic, and chose the PHC this year.
"It is a great honor for us," PHC President Jack Haye said.
In recognition of this honor and to encourage students' to attend, the school has canceled classes on Jan. 19. Students, faculty, staff, alumni, and their families, as well as prospective students, may participate with the College during the march.
"So much is different than past marches," junior Mike Patton said. "In the past, a group of PHC students would get together and go. This year, the whole school is being shut down. We are getting free food and transportation for everyone, donors have provided us with buses, and we are literally going to be leading the March for Life by carrying the banner at the front of the march."
Dr. Michael Haynes, head of the American Politics & Policy department, explained that Generation Joshua, an organization that encourages young Christians to get involved in politics, helped secure a spot at the Capitol Hill Club for students who finished the march. There, they will partake in refreshments and "hobnob with officials after leading the march to the Supreme Court," Dr. Haynes said.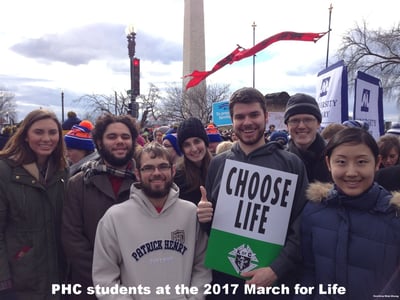 "It's not just that it's exciting that we get to be up front and those things, we are talking about life," he added. "There's not an issue more important than this one."
"Life is not an issue of debate or politics," student Mike Patton added. "The murder of sixty million innocent human beings is something that must be confronted. This year, PHC has an opportunity like never before to lead the pro-life movement in standing against abortion… I think this is a fundamental part of how we can practically carry out our charter to 'influence the culture for Christ and for Liberty.'"
----------------
The entire PHC Community is invited to march with us on January 19th. Register now!