This month, Patrick Henry College's theatre club Eden Troupe present's William Shakespeare's classic "The Winter's Tale," a story with romance, humor, and heart.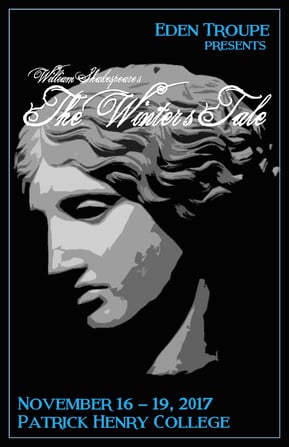 You can see the unfolding drama of jealous King Leontes and patient Queen Hermione from November 16 to 19 at in the College's Town Hall auditorium. Performances are at 7:30 p.m. for Thursday, Friday, and Saturday performances and at 2 p.m. for the Sunday matinee. Standard tickets cost $10. Tickets are $8 with the presentation of a valid student or military ID, and $6 for children under 12.
Group rates can be arranged in advance by contacting emgannage@gmail.com, with the standard group rate as $8 per person for groups over ten.
We don't want to give away too much of the plot, but let's just say one of the main themes of the play is that things are not always as they seem!
Eden Troupe, PHC's drama club, seeks to glorify God through the production of plays that communicate truth and beauty.
The student-directed group produces one or more theatrical productions each semester, which have included As You Like It and Our Town.
See below for a complete cast list:
Josh Ryan - King Leontes
Christiana Jorgenson - Hermione
Abigail Olinski - Paulina
Abby Rose - Perdita
Ben Purnell - Florizel
Nathan Karnes - Camillo
David Slaughter - Antigonus
Eli Karnes - Polixenes
Ethan Chapman - Elpenor
Gabe Gannage - Autolycus
Erin Curd - Agarista
Theresa Rowland - Dion
Hallie Skansi - Cleomenes
Shellby Jo Thomas - Ianthe/Archidama
Thomas Siu - Lycoris
Chris Miller - Amphios
Alex Petrin - Diodoros
Abigail Salomon - Otonia
Leo Briceno - Mygdos
Jae Jared - Emilia
Gabi Johnson - Mopsa
Susanna Hoffman - Dorcas/Thaleia
Seth Lucas - Peteos/Coenus
--------------------------------------------------------------------------------
Reporting courtesy of PHC's The Herald.