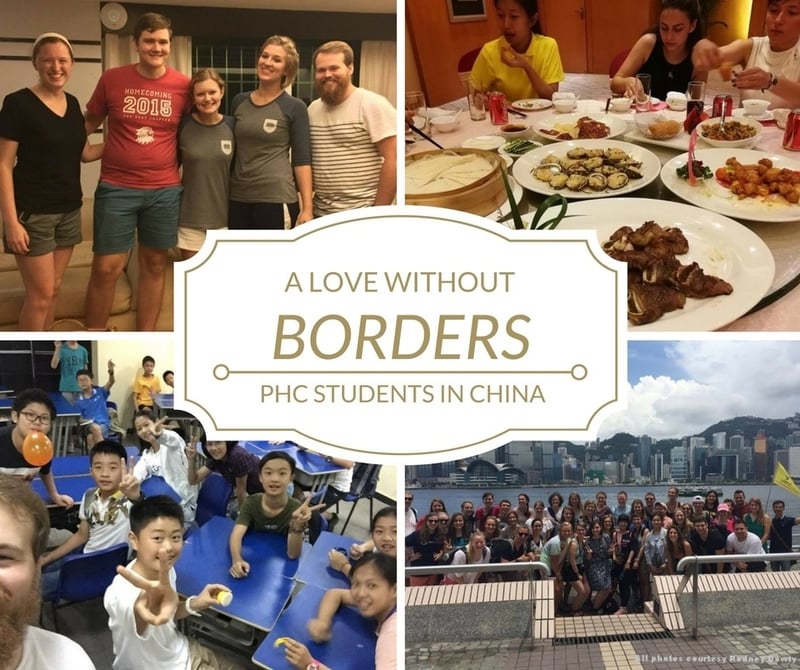 The lives of three Patrick Henry College students and two alumni were changed forever in China this summer.

Students Mary Katherine Collins, Rodney Dowty, and Shannon O'Brien traveled to the other side of the world to volunteer at an English as a Second Language (ESL) camp, while husband and wife Abby and Daniel Osborne (PHC Class of 2016 and 2017, respectively) moved to become teachers at a Chinese international school.
Abby had visited central China to teach English her senior year of high school. She loved the culture and the food so much that she would not stop talking about it once she got back.
Three years later, a friend sent her information on recruiters looking for people to volunteer in China. Through them, she found the ESL camp who had just had a teaching position open up.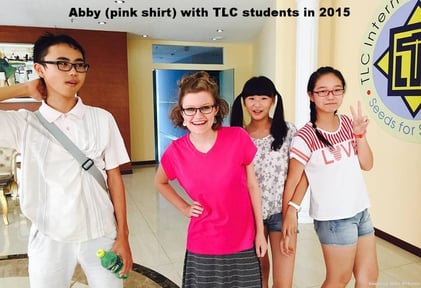 After her first visit, the camp welcomed her back the next summer along with her then-boyfriend Daniel Osborne. The two traveled to Dongguan, which is just north of Hong Kong, to teach English once again.
The camp recruiters, Tom and Selva Kweder, liked Abby and Daniel so much they recruited three more PHC students for the next summer. Mary Katherine, Rodney, and Shannon signed on and couldn't wait for the adventure.
And they had the potential to earn school credit for the work, too. Shannon, a Classical Liberal Arts major and is interested in being a teacher, fulfilled five credits of internship through the teaching position (read more about PHC's emphasis on internships here!).
Meanwhile, the Kweders recommended Abby and Daniel for the Trinity Learning Center (TLC). Both Osbornes wanted to teach after they graduated, so it was a perfect fit. TLC, an international school, offered them the very opportunities they had hoped for, English for Abby Osborne and social studies for Daniel Osborne.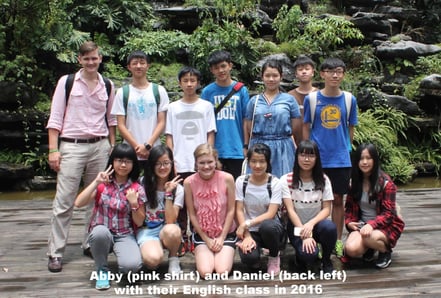 The pair trekked to Dongguan, China, a month and a half ago to start their two-year contract. The day they arrived, they were greeted by familiar faces -- Mary Katherine, Rodney, and Shannon had just finished up their five weeks teaching at camp.
College senior Rodney helped seventh graders practice their conversation skills, while junior Shannon taught sixth grade and fellow junior Mary Katherine taught 5th grade.
"It's a life-changing opportunity, and everyone should look for those," Rodney said.
The love Rodney experienced for and from these children moved him. He still has a flower cutout that one of his students gave to him.
Rodney found ways to make the more rambunctious children cooperate. He knew how to give misbehaving children an outlet -- and sometimes that meant throwing paper balls at them to get their attention.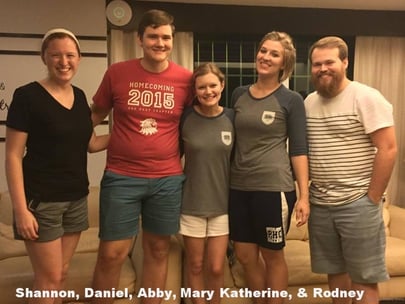 He explained that one student was held back from the eighth grade class to split him up from his friends who had caused trouble the first day. He tended to be bored in class and distract the other students, so Rodney let him play with basketballs as long as he kept from disrupting the other children and continued to learn.
"I never thought that being the problem kid would help me connect with other kids in that way," he said.
He also explained how he loudly heard God speak to him on the trip. One of the last days of their trip, he said he heard God tell him, "This is a community that you can invest in and can invest in you."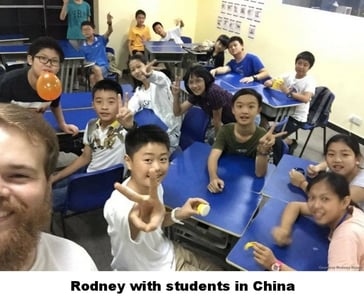 His last night in China, Rodney did not know if or how he would be able to visit China again. He was lost in his worries until two little boys caught his attention. They would stand near Rodney, and whisper to each other. Then they would race back to talk to their mother only to return to stand next to Rodney again. Finally, one of the boys mustered up the courage to say, "Hi."
In that moment, Rodney forgot all his fears.
"Hello. What's your name?" Rodney replied, bringing back the teacher persona he had lived in for the previous five weeks.
Rodney hopes to go back to China and eventually work there long term like Abby and Daniel.
"There's something about being overseas that makes you dependent on something other than yourself," he said.
Article courtesy of The Herald.
-------------------------
We hope this post was interesting to you! Comment below with a country you've always dreamed of visiting.