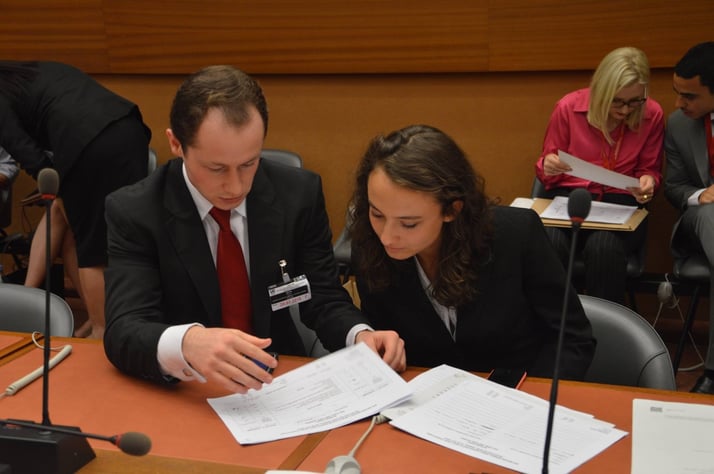 Purcellville, VA, JULY 21, 2016 – Patrick Henry College won the 8th Annual Nelson Mandela World Human Rights Moot Court Competition on July 20, 2016 in Geneva, Switzerland—a leading human rights educational event. The final round of the competition, sponsored by the Centre for Human Rights, of the University of Pretoria, South Africa, was held in the UN Human Rights Council Chambers.
Michael Farris, Chancellor of Patrick Henry College, coached the team of rising juniors, William Bock and Helaina Hirsch, to victory. PHC has won multiple national championships in undergraduate moot court competition, but this tournament was unique for the school in that it was a world tournament and all other universities and colleges were represented by law students. The only other American university to qualify for the tournament was Yale Law School.
Continuing the long line of Moot Court success, William Bock (hometown: Indianapolis, IN) and Helaina Hirsch (hometown: Lafayette, CA) competed against 24 other law school teams. Only five schools can come from each region. PHC is a part of the region that includes all of North America, Australia, and Western Europe.
In the finals, PHC's undergrads beat a team of law students from Moi University in Kenya. William also was awarded the first place oralist in the tournament and Helaina was named the second place oralist. William and Helaina have won a scholarship to return to Switzerland next year to attend a global human rights academy to study international human rights law.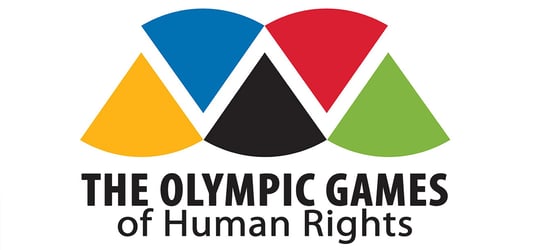 Patrick Henry College's only prior international competition was in 2005 in a successful one-on-one competition with Baliol College of Oxford University.
Since 2004, PHC has won 9 of the last 12 American Moot Court Assn. National Championships, cementing the smaller college as a legal debate powerhouse regularly facing leading universities like the University of Virginia, Duke, Holy Cross, and many other well-recognized schools.
The 8th Nelson Mandela World Human Rights Moot Court Competition was judged by a group of eminent international jurists. This competition is presented by the Centre for Human Rights. Students are required to submit extensive briefs based on a hypothetical case involving international law and human rights issues. After the brief writing competition, the best 25 teams from around the world are invited to participate in the oral argument competition.
Patrick Henry College is one of only six U.S. institutions of higher education that does not accept any federal funding and has not since opening its doors to students back in September 2000. Patrick Henry College is an institution of higher education committed to robust classical liberal arts training as a Christian mission with a biblical worldview.
For more information or for comment from Michael Farris, contact:
Patrick Henry College
Primary Contact: Stephen Allen, Director of Admissions and Communications
Phone: (540) 441-8110 | Email: scallen@phc.edu
Visit our Moot Court page for additional information about our program!