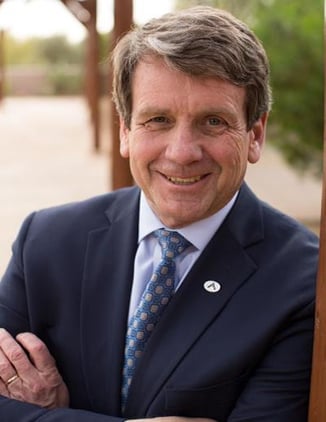 Chancellor Emeritus
Professor of Government
Educational Background:
LL.M., University of London
J.D., honors graduate, Gonzaga University School of Law
B.A. in Political Science, magna cum laude, Western Washington University (formerly Western Washington State College)
Time at PHC: 2000 to 2016
Michael P. Farris is president, CEO, and general counsel of Alliance Defending Freedom. Farris was founding president of both the Home School Legal Defense Association (1983) and Patrick Henry College (2000) and continues to serve as chairman of the board of HSLDA and chancellor emeritus of PHC.
He graduated from Western Washington State College, magna cum laude, with a bachelor's degree in Political Science, followed by a Juris Doctor from Gonzaga University (with honors). At Gonzaga, he was articles editor of the Law Review and winner of the Linden Cup Moot Court Competition. He also earned an LL.M. in Public International Law (with honors) from the University of London.
Farris is nationally known as a pioneering leader of the modern homeschooling movement. His leadership of HSLDA has taken him to nearly every state and a growing number of other nations.
As the founding president of Patrick Henry College, he helped launch a highly regarded Christian educational institution founded on a strong commitment to biblical truth and the classical liberal arts, the twin pillars of education for the founding generations of the United States. At PHC, Farris has taught constitutional law, public international law, and coached the Moot Court team to nine national championships between 2004 and 2016. Although PHC is an undergraduate college, Farris's team competed against law schools (including Yale) in the 2016 Nelson Mandela Human Rights Moot Court Championship. At the tournament, held at the UN in Geneva, PHC won the World Championship.
Farris is the author of over 15 books, as well as law review and other scholarly articles, and countless pieces for the popular press. He has appeared on every national television network, dozens of talk shows, and played himself in a motion picture. He is the author and narrator of a popular video series entitled Constitutional Literacy, and co-host of a daily radio show, "Homeschool Heartbeat," which airs on nearly a thousand stations.
His work has been recognized by a number of awards, including the Heritage Foundation's Salvatori Prize for American Citizenship, and a lifetime achievement award from the Virginia Family Foundation. For his work in home education, Education Week Magazine named him one of the top 100 "Faces in Education" for the 20th century. He and his wife, Vickie, have 10 children and 20 grandchildren.