Rising Patrick Henry College seniors Marquis Gough and Sequioa Poths are interning at 21st Century Wilberforce Initiative (21CWI) this summer. 21CWI is a nonpartisan organization that promotes international religious freedom from its office just outside the District of Columbia.
"I'm super excited to be a part of helping people all over the world who are experiencing intense persecution every day," said Sequoia, a government major.
Earlier this month, Sequoia talked to Capitol Hill staffers about 21CWI's mission. One of their current projects are writing letters to President Donald Trump to appoint an Ambassador-at-Large for International Religious Freedom.
Each year, the organization highlights a country where citizens are being denied their right to worship according to their consciences.
"We want to draw public attention to the ongoing crisis in Nigeria," Marquis said. "Millions are at risk of facing man-made famine due to the violent extremism of Boko Haram [and other factors]."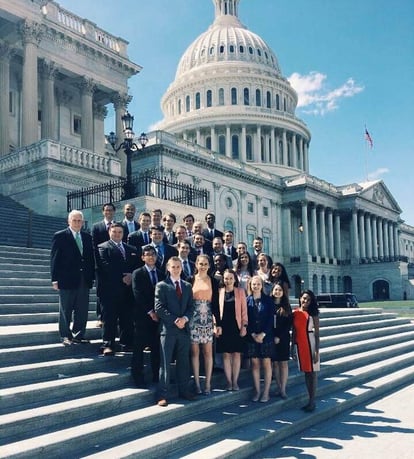 Former Congressman Frank Wolf (left) with Wilberforce's Emerging Leaders Conference.
He is interning in the development office this summer, helping ensure that 21CWI has funding.
Marquis, an American Politics & Policy major at PHC, met former Congressman Frank Wolf through this internship. Wolf, Virginia's longest-serving Congressman who has traveled to places like Sudan to advocate for human rights, is "Distinguished Senior Fellow" at the organization.
Wolf has an open-door policy at the office, and Marquis took advantage of it to talk to Wolf about his book "Prisoner of Conscience," which details his experiences promoting religious rights in places from Bosnia to China.
"He's always willing to talk," Marquis said of Wolf. "He wants people to know they can make a difference."
Wolf gave Marquis two pieces of advice—to travel to American landmarks like Mount Vernon and Independence Hall, and to read Profiles in Courage by John F. Kennedy (about courageous senators) and the play A Man for All Seasons by Thomas Bolt, about principled British official Sir Thomas More. It's a summer project Marquis doesn't plan on taking lightly.
He's excited for what else lies ahead at 21CWI this summer.
"Religious freedom is inherently tied to a more safe and secure free society," Marquis said. "My favorite thing about the job is waking up in the morning and feeling like I have a purpose."
----------------