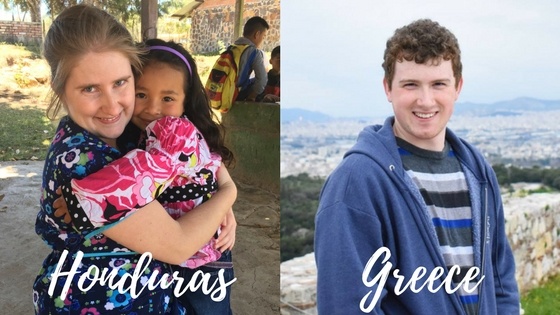 Many Patrick Henry College students took a leap of faith and spent their spring break spreading the gospel and serving others on two separate mission trips to Greece and Honduras.

From the end of February to the beginning of March, they got up-close looks at two charities that serve the least of these on opposite corners of the globe.
President Jack Haye led a group of eight to volunteer in Athens, Greece. They worked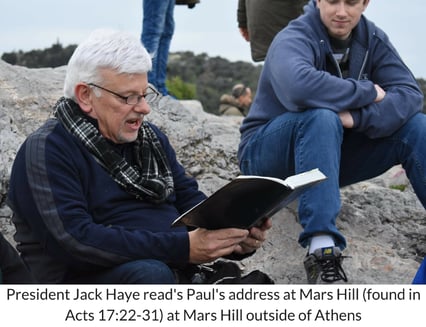 with an organization called Streetlights, which shows the love of Jesus to refugees from the Middle East through sports ministry, English classes, assistance with asylum paperwork, and more.
"As the refugee crisis has moved from the front page news, many first responder organizations have moved on," President Haye explained. "Refugees continue to arrive daily in Greece, however."
Meanwhile, a seven-person team flew to Tegucigalpa, Honduras, to volunteer with World Gospel Outreach (WGO). It partners with local churches to bring medical and dental care — and the hope of the gospel — to the people of Honduras, many of whom don't even own a toothbrush. Government corruption and disintegration of the family unit make it hard to get by in the Central American country.
Serving the People of Honduras
PHC's Team Honduras spent their days serving in the rural community of Montaña Azacualpa, and their nights in WGO's mission house, singing worship songs and playing games with the missionaries who live there.
The best part of the trip was interacting with the children. Abuse and neglect is common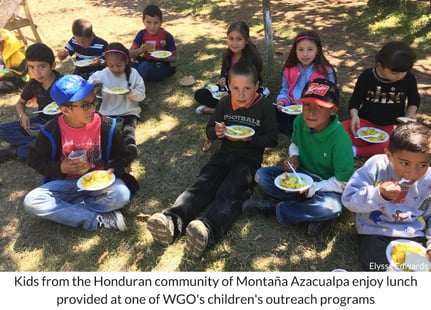 in Honduras, where many families lack a father figure, so the PHCers were overjoyed to offer a Vacation Bible School-like program to the kids of Azacualpa and love on them.
Jeffrey Good, PHC's Director of Information Technology, went on the Honduras trip and had fun playing with the kids at the "soccer station" during VBS. He also tried to keep an eye out for kids staying on the sidelines.
"I was hoping to be a kind of father figure to them," he said. "There was one girl who had special needs, so I just sat with her all day. She didn't really talk a whole lot, but then at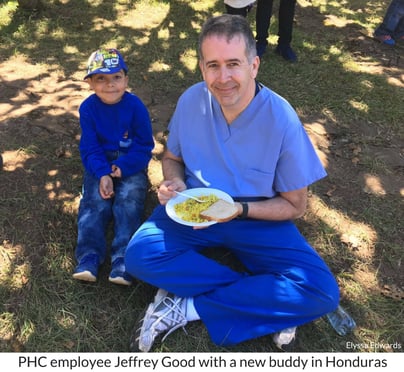 end of the day when we were leaving she ran up and gave me a big hug. That was really amazing."
Even though most of the kids did not speak English, PHC's team used basic Spanish while playing soccer with them, braiding their hair, making crafts, and sharing the gospel during story time.
PHC's team also visited WGO's children's home, called Rancho Ebenezer. It's a much-needed ministry in Honduras. The organization provides homes for orphans as well as children who have been removed from the care of their parents because of neglect or other reasons. WGO tries to make Rancho Ebenezer resemble a traditional home as much as possible – children live in small groups with house parents, and attend school daily.
Ruan Meintjes (Class of '16) visited "the Ranch," as it's often called, and played with the kids during recess.
"I played tag with them, and I learned that you especially have got to look out for the 6-year-olds in a game of tag!" Ruan said. "I walked away realizing that no child should ever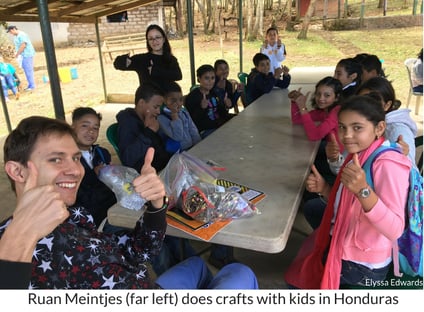 be written off. Out of some of the worst circumstances come the sweetest and most beautiful children you've ever seen."
The team spent the last two days of the trip assisting pharmacists and doctors as they provided free medicine, cavity fillings, and tooth extractions at a pop-up clinic in a church. But the most exciting part was that each adult who passed through the free clinic spent time in one-on-one evangelism, where PHC team members talked to them about their walks with God and prayed for them.
During one-on-one evangelism, junior Jane White prayed for a school principal who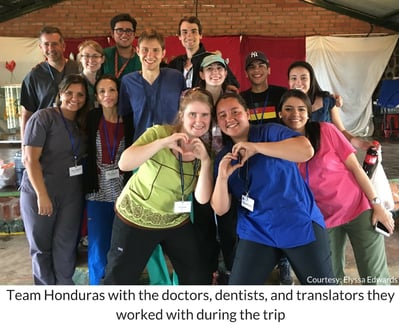 wanted to set a godly example for his pupils, a woman whose shoulder needed healing, and a mother who desperately wanted her sons to return to the church.
"I had the chance to connect with people I wouldn't have gotten to meet otherwise, minister to them spiritually, and also hear a lot of their testimonies," Jane said.
The team is already planning for next year's trip! Click here to learn more.
Shining Christ's Light to Refugees in Greece
Halfway across the world, PHC's Greece team did everything from distributing clothing to refugees to teaching the alphabet to adults lacking basic reading skills. (Unfortunately, we cannot post photos of students with the refugees they met for safety reasons.)
"The PHC team experienced an incredible week of serving in the Kypseli district of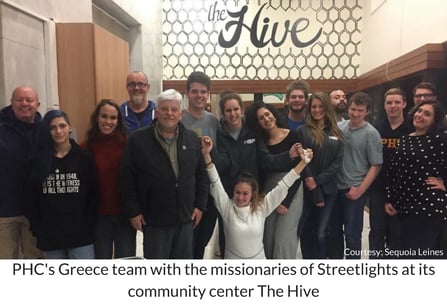 Athens, which is the most densely populated refugee resettlement area in all of Western Europe," President Haye said. "We were honored to add extra hands and feet to the work that Streetlights is doing 365 days a year. We all returned to the U.S. a bit worn around the edges but full."
Senior Sequoia Leines felt God's calling to go to Greece.
"I think that Americans are often desensitized to problems in other countries because we have pretty amazing lives here in the States," she said. "I wanted my perspective to be disrupted."
In Athens, she reunited with friend Hailey Kilgo, one of her former roommates at PHC.
Hailey went on the 2017 Greece trip and never looked back, accepting a position with Streetlights and moving to a new country just a few months after the mission trip.
Sequoia's favorite moment of the trip came while she was helping an Afghani woman named Nagini in an English class for refugee women.
"She spoke Farsi, but was completely illiterate, unable to read or write, because the Taliban don't allow women to go to school in Afghanistan," Sequoia said. "So there I was, helping Nagini learn how to hold a pencil, thinking that there was no possible way this was going to be successful."
But by the end of the week, Nagini had mastered letters A through G, and both she and Sequoia were brimming with pride.
"To see these women laughing and grinning with pride because they learned how to write their ABCs, to even be given the opportunity to play a small part in their progress, has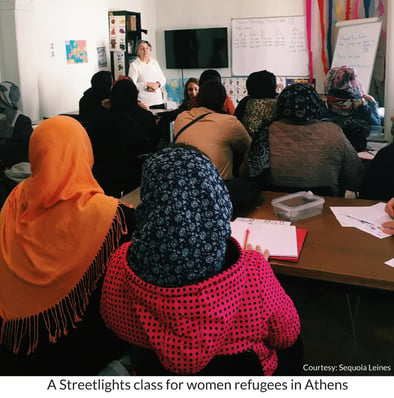 filled me with a desire to do more," Sequoia said.
Junior Esther Katz was motivated to be on the Greece team partly because of her passion for Middle East policy as an International Politics & Policy major. But the lessons she learned went deeper than anything political.
"I was impacted by the faith-building trials the Streetlights team faces," Esther said. "I was also grieved by the horrors that the refugees face in their home countries and in the Greek camps. One of the main things I brought back is the realization that, right now, there really is nothing worth fretting about in my life."
--------------------
Learn more about PHC students' impact on the world for the gospel below!