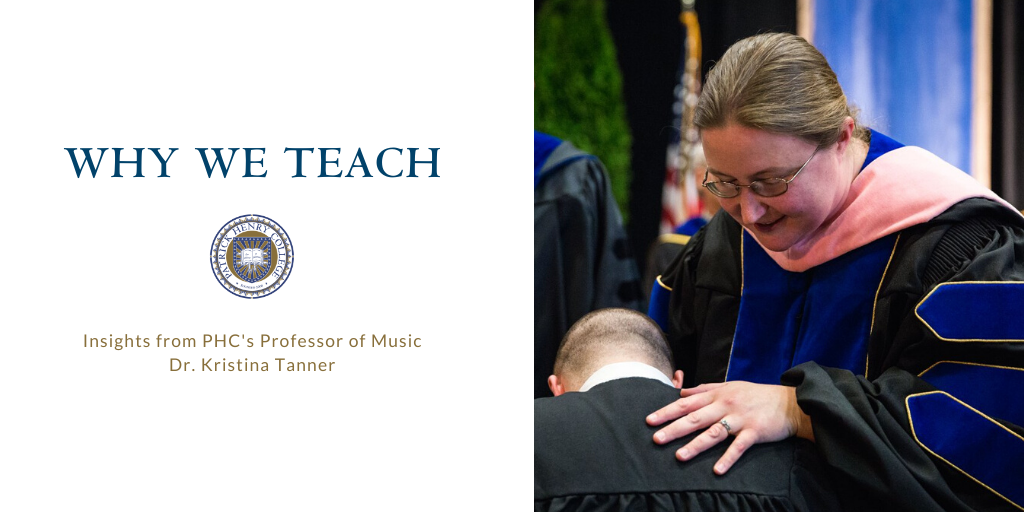 PHC faculty are the heart of the school; they are not only teachers, but they are also mentors and friends. We wanted to talk to some faculty about why they chose to teach at PHC and what their experience is like.
Assistant Professor of Music, Dr. Kristina Tanner (nee Lobenhofer), has been a professor at PHC since 2007 and is often referred to as the 'campus mom' for her care and attention to students.
What is your favorite class to teach at PHC?
I have two or three favorites—but with a caveat that I love each of my piano students and couldn't rank any of them over the other. (I basically love teaching everything, so this was a challenge.) Arts and Worship in the Church is a favorite because it generates excellent discussion about the role of the arts in the current church and about the value and attainment of beauty to better honor God. Music and Politics is a favorite because PHC students have such excitement about wide-ranging topics like campaign songs and Soviet music. And Music History and Appreciation is a favorite because there are so many beautiful works to which I get to introduce students but also so many ties to faith and history and culture that can prove new and informative to them. I love providing those connections.
What are your students like, is it easy to get to know them?
I spend a lot of time with my piano students (in lessons), and some of it is talking and praying about life—so after four years, some of us know each other pretty well! I find it is very easy to get to know some students (talking in the cafeteria, outside class, etc.), while some are more enigmatic. In general, PHC students have varied and interesting life experiences and are very thoughtful people, so getting to know them is quite fun—and often I learn things!
What are the biggest challenges of teaching at PHC?
There's not enough time in class to cover all the music I would love to enjoy with students! Also, the varieties of musical experience can add extra challenges to a general course like Music History and Appreciation. That is a fun challenge though.
This past semester, adapting a couple of courses that I had never imagined as remote instruction (music theory and aural skills/sight singing and ear training) proved one of my biggest teaching challenges to date, but I actually think it turned out extremely well.
What is it like to be a teacher?
I love to teach at PHC. For starters, I love to teach anything, anywhere: homeschooling my children all the way to teaching music theory to teaching medieval music history. But PHC is a specialized learning environment. Students come in with a wide variety of interests and the knowledge of how to pursue them, thanks to the experience of many with home-based learning and instruction.
PHC also is a unique place because of its biblical and classical liberal arts focus, and that gives me the chance to help students understand that Christ is at the root of all disciplines including mine, and that the good, true and beautiful are manifested through music just as in so many other disciplines.
How does PHC compare to other teaching experiences you've had?
In general, PHC students are much more interactive in the classroom. The questions are deeper here as well. When I ask on day one of Music History and Appreciation, "So how would you define music?," it is totally in the frame of possibility for a student to reference Platonic forms, a high or low telos, or the flaws in a pragmatic philosophical approach. That is not typical, in my experience, anywhere else.
Why PHC?
I believe in what the school stands for: teaching Classical Liberal Arts as a building block for learning in all fields, from a biblical worldview, and training leaders to help our culture see the beauty of the God we serve; and I truly appreciate the students, the faculty, and the staff and their love for the Lord and desire to know truth as well as the good, true and beautiful.
______
Want to read about PHC's music department? Click here...