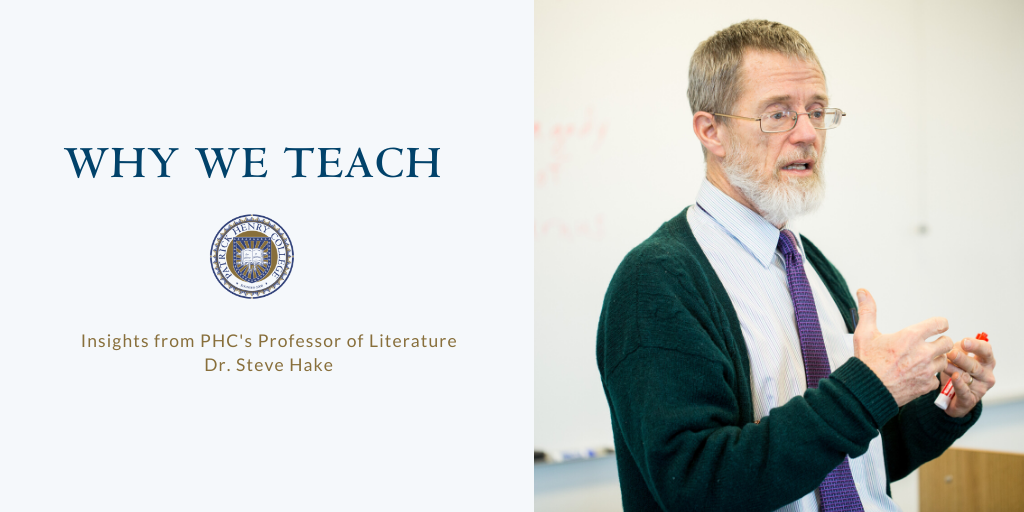 PHC's professors are the backbone of the school. They spend long hours teaching classes and grading assignments. While not in the classroom, they often mentor students.
Professor of Literature Dr. Steve Hake frequently meets with students in the dining hall or in his office and regularly prays for those who take his classes.
Do you have a favorite class that you teach at PHC?
I've actually got a Worldviews and Literature class that actually I plan to teach. I want to teach it in Spring, and I'm excited about that. Several students have asked about it.
Do you find it easy to get to know your students?
I love interacting with students; that's a big plus at PHC because the students are so engaged. I don't find it hard to get to know them, and I love to hear back from them. I love to teach, I love the classroom, but I love hearing back from the students.
What is the best part about teaching at PHC?
Oh, that's a hard one because I enjoy virtually everything. I love the Administration, I love the students, I love the fact that we're small, and that we're a tight-knit team… it requires us to stay on our toes. If you want to be fully engaged, fully energized, then PHC's a great place.
I come from many years of teaching at a large Chinese university in Taiwan. In Taiwan, I believed in what I was doing, but I didn't believe in what we were doing. At PHC, I still believe in what I am doing, but I also believe in what we are doing.
What are the biggest challenges of teaching at PHC?
Well, I suppose this could also be a good thing, but students want a lot, and they expect a lot… Teachers look around at other teachers and we work very hard. It's not a place that's easy, and you can have fun, but if you want to be stretched, PHC's a great place. It's very personal—it's very competitive—but it's also very personal. It's also very humble and real. Nobody is full of himself, and we all know that we need God's grace, and we all make mistakes.
Why do you teach at PHC?
I've never done anything just to do it. My heart's desire has always been, as long as I've been a believer, to be what God wanted me to be, to be doing what He wanted me to be doing, to be in whatever place of the battle where I can be most effective. I pray about that a lot. I sense God's call, I follow my heart, I teach at PHC because I believe that in all the world, that's where God wants me. It's God's calling in my life.
______
Want to learn more about literature at PHC? Click here...