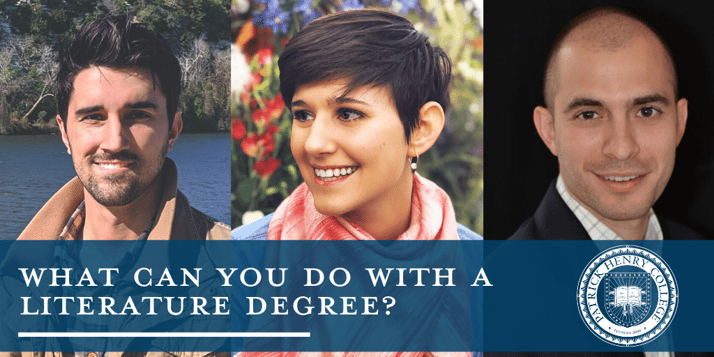 We talked with three Patrick Henry College literature alumni about their time at PHC. Find out what they're up to now, and how they've used their literature degrees!
Jordan Sillars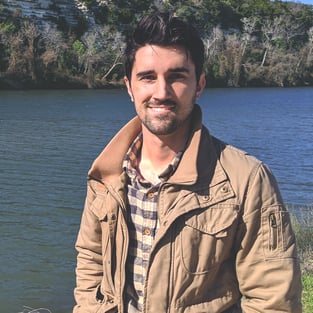 What I'm up to now: I'm in the PhD program at Baylor University in Waco, Texas, studying English. I'm also writing for a political non-profit, editing for another non-profit, and writing for various outdoor publications. My wife and I recently adopted two kids (Kai and Zaria) through the Texas foster care system, and we have two dogs who sleep on the couch when they're not supposed to.
What are the most valuable skills PHC taught you?
PHC taught me that almost every idea we debate today has already been debated. Looking to what authors have said and discussed in the past can shed light on what's happening in 2020. PHC also taught me how to make a killer dining hall waffle, so there's that.
Which class at PHC left the biggest impact?
Freedoms Foundations had the biggest impact on my worldview, but I use what I learned in Journalism I almost every day. Everyone is looking for good writers, and learning to write clearly and concisely has been beyond important in my work (Professor of History Dr. Spinney also emphasized this in his classes). And, until the AI bots take over, writing will always be in high demand.
How has having a literature degree helped you succeed?
I wouldn't have been able to get into graduate English programs without the solid foundation PHC provided. Beyond that, learning about Big Ideas™ through literature is by far the most enjoyable way to do it. Everything in the world is contained in literature, and exploring these ideas has helped me think critically and deeply about the non-academic areas of my life and work.

Brianna Estrada

What I'm up to now:
All the things!
In the same way that PHC pushes you to juggle multiple courses, sports, moot court, etc., life continues to be a place full of multiple opportunities for those who can take them on!
I currently enjoy teaching my children at home, as well as teaching at a cooperative school; I lead the preschool story times and teach a literature class for older students.
These roles have paired well with my position at the Merrimack Public Library, where I work in the children's department. Some of my favorite projects have been compiling purchase recommendations for our Educator Resources, as well as leveling our early reader collection to make it more accessible to emerging readers.
Of course, life doesn't usually fit neatly into a single skill-set. I also manage an Airbnb out of our home that hosts multiple guests each month. Most of the work is hospitality related, but I like to think that my PHC writing and people skills have contributed to my Super Host rating and 5 stars for communication!
I am part of steering committees, church groups, enjoy camping and home renovating…but the list would get tedious if I was too long-winded. God has blessed me with so much in my life, and I am thankful for the ability to enjoy and juggle it all, hopefully without dropping too many balls!
Which class at PHC left the biggest impact?
I consider PHC a holistic experience. There is not "one" class or one "major" that will prepare you for your future career. I think it is the combination of challenging course work, depth of ideas, and strength of friendship that create an environment in which you learn, grow, and change into a capable adult ready to face and conquer the challenges life will throw at you.
How has having a literature degree helped you succeed?
I think career-wise it helped me get various jobs related to my degree. But more importantly, I think literature in particular has given me a window into the lives of characters (fiction and non-fiction). This ability has enabled me to vicariously enjoy, test, try, and succeed in experiences and lifetimes that I could never live entirely on my own.
Jordan Estrada
What I'm up to now: My day job is private security; I currently work as a security manager at a tech company. I do a lot of writing/content creation at work, including a year where my primary responsibility was security/compliance technical writing. On the side, I write science fiction. I've currently published five novellas in the "Human Ship" sci-fi series, which is available on Amazon Kindle. I occasionally dabble in non-fiction writing as well. I've written several editorials on political matters in recent years, and wrote a contest-winning essay on independence for Survivalblog.com in 2017.
What are the most valuable skills PHC taught you?
How to produce quality, well-written content under pressure, within a deadline, and while juggling other competing responsibilities/priorities.
Which class at PHC left the biggest impact?
Professor of Literature Dr. Hake's take on literature still resonates with me 12 years later, and a lot of his influence and perspective is deeply rooted in my psyche both as a reader and a writer. Additionally, I frequently find myself remembering bits from Dr. Mitchell's philosophy 101 class. In retrospect, I think that class shaped and directed many aspects of my adult life.
How has having a literature degree helped you succeed?
When I began my career in the security industry as a uniformed security officer, people immediately began commenting on my writing skills and written reports. I think this was one aspect that helped me advance in my career. Having a strong background in written communication has greatly helped me in the corporate world, as so much business involves written content. On many occasions over the past few years, I've become the go-to person for content creation. After the rigors of PHC, writing in the corporate world seems easy by comparison. When everybody around you is blowing past deadlines, misusing words, and generating typos, just a little bit of Strunk & White [Elements of Style] makes your work stand out!
I couldn't talk about my career or professional development without giving credit to John Terryberry, former Grounds Superintendent. In between classes, John taught all of us on the Grounds Crew about leadership, managing people, managing projects, and how to build working catapults. Many of the lessons I learned while working on the Grounds Crew have stayed with me long after the books, classes, and papers have faded from my mind. Thank you, boss!
______
Click below to read more about Pre-Law at PHC!