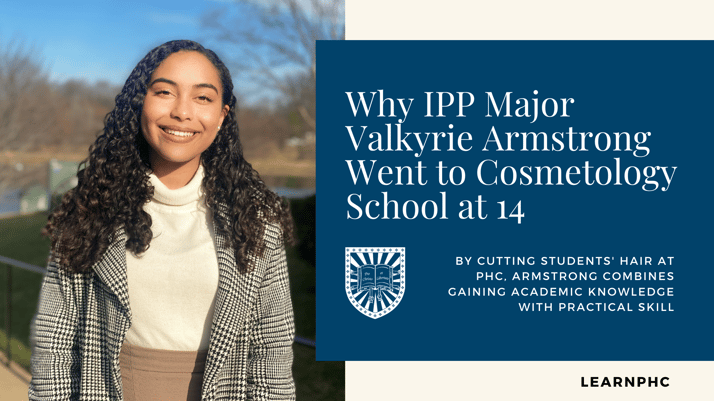 This story was originally published in PHC's student-run publication The Herald.
I took a deep breath, settling into the wooden chair junior Valkyrie Armstrong had hauled down the stairs from her room. We were in the lobby of Montpelier, the female dorm commonly known as D3, facing the windows. Valkyrie tied a black salon gown behind my neck and took a comb from the pocketed apron she wore.
"So, what are you looking for?" she asked. I liked the length of my hair, but I knew I needed at least a trim so that my curls would lift more. We settled on long layers and a few face-framing pieces. As she parted my hair, I asked her how she got started in cosmetology. She's now a 19-year-old junior in college and had already earned her cosmetology license by the time she came to Patrick Henry College at age 17.
"I was homeschooled—I was able to move on, so I just did," Valkyrie explained. She began high school at age 12 and cosmetology school at 14, graduating from both at 16. Beyond just head knowledge, her mom had told her that it was valuable to possess a skill—even when the world shuts down, people still need haircuts.
Like a lot of hairstylists, however, Valkyrie chose to learn cosmetology because of her personal struggles with her hair.
"I'm mixed; my mom is Jamaican, and my dad is Swedish and Norwegian, a mix of a lot of things," she said. She had her dad's fine hair texture but her mom's curl, so neither of her parents really knew what to do with her hair. Only one of her older brothers had hair like hers, but he cut his short."
She began to wet my hair, prepping it for the cut. "They didn't really know what to do with my hair," she continued. "A lot of times, they would brush it out, and if you brush curly hair, it just gets super frizzy. They tried their best, but they were both working and didn't have time to be doing my hair."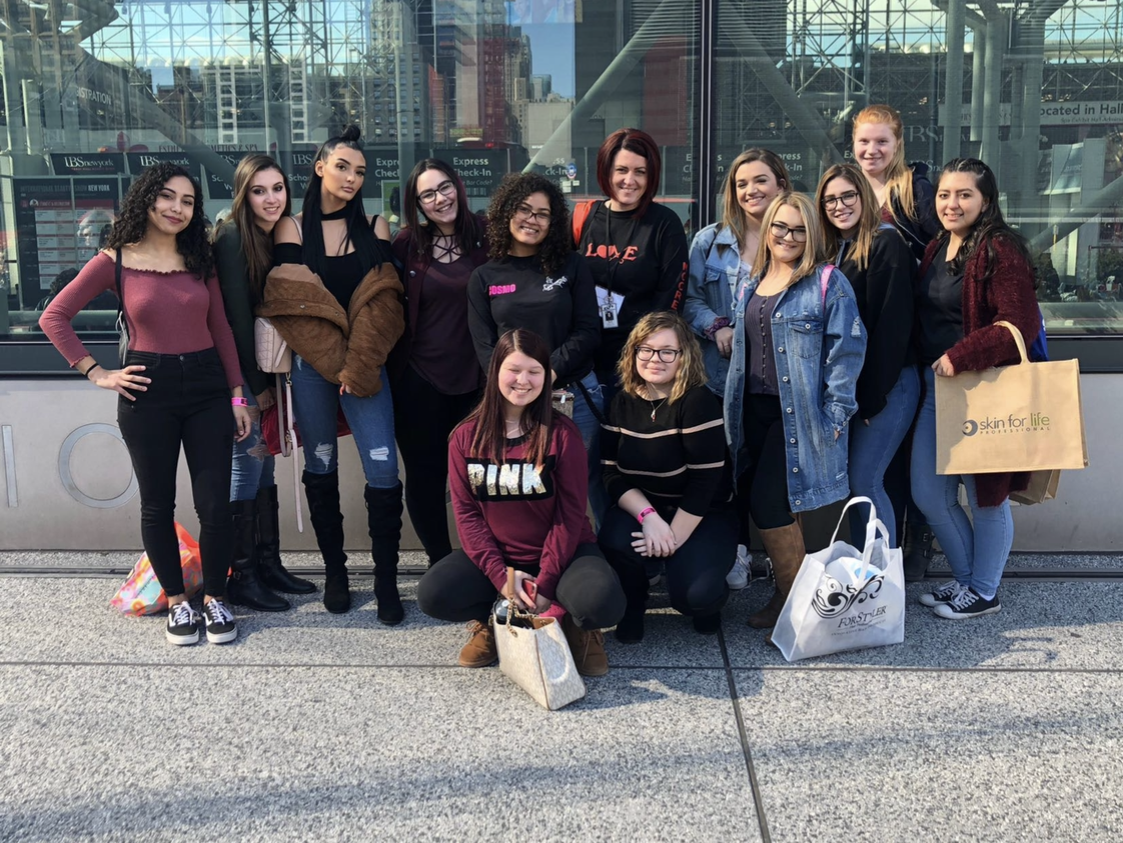 Armstrong (far left) and her Cosmetology class at the 2019 International Beauty Show in New York City.
Valkyrie managed her hair mainly by straightening it, but straighteners cause heat damage. As she grew older, she discovered various techniques and products that helped. At cosmetology school, the girls had all types of hair. "It helped me become more confident in my hair because I would see other people wearing their hair naturally curly and loving it," Valkyrie said.
For 2 years, Valkyrie rode a bus every weekday morning to the career and technical education school where she earned her license. Students learning other technical professions, like carpentry or culinary arts, also attended school there. Valkyrie remembers trading pizzas for haircuts and massages for manicures.
"We were all able to enjoy each other's work and learn about what other people were doing," Valkyrie said.
Another pause. "These layers are looking good; I like this," she told me. I started sharing my own hair journey; the hairstylist's chair tends to bring stories out of you.
I told her I didn't realize I had curly hair until I was 14. She'd heard that story before: "People go 20, 30 years—even their entire life—without realizing they have curly hair." We swapped curly hair routines. How much gel, cream, or conditioner should you use? Should you air dry, plop, or use a diffuser? She started cutting some pieces to frame my face. I could feel that my hair was lighter. My spirits were, too.
"It's really helped cutting hair here—it's been a great outlet to meet new people that I wouldn't normally talk to," Valkyrie said. She's cut the hair of at least two-thirds of the girls in my dorm wing, and I've found there's about a 50-50 chance that if I notice a friend has had her hair cut, it was by Valkyrie.
"It's something that I am super passionate about," she said. For now, though, it's a side hustle. She only has a year left before she graduates with a degree in International Politics & Policy. She can see herself working on Capitol Hill. Still, if she ever needs a skill to fall back on, her comb and scissors are waiting.
-----
Interested in Journalism? Learn more about PHC's Journalism major below: