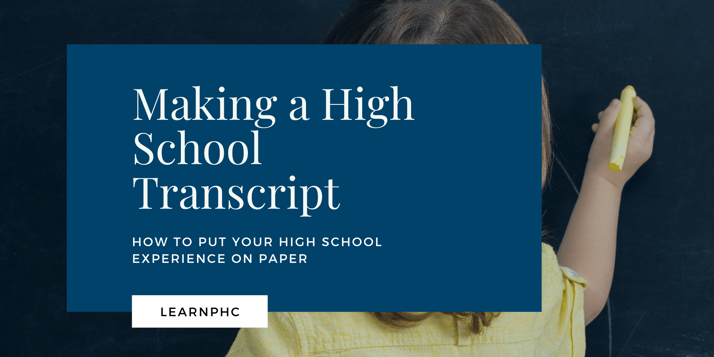 Preparing a transcript is a unique process for homeschooling families, but it doesn't need to be intimidating! A transcript documents a student's high school coursework and helps colleges evaluate the student's academic mastery.
Don't wait to compile your transcript until applying for college! Keep an ongoing list of your high school courses, grades, and extracurricular and volunteer activities using this transcript template and sample high school transcript.
Here is a list of what you should include in your transcript:
Subjects with Course Titles
Include each subject you have studied in each high school grade along with their specific course titles. Also include a description of the course if the title does not sufficiently explain the content.
Units or Credits
Make sure to include a method to indicate the length of the course and the amount of material covered. A year-long high school course earns one credit worth of material, while a semester-long course earns a half credit.
Year or Months in Which Each Course Was Completed
Grades
Specified Day of Anticipated Graduation (i.e., June 15, 2021)
Original Hand-Signed Signature By School Administrator
Optional Information
Feel free to include extracurricular activities, volunteer experience, service areas, special awards and honors.
While preparing your transcript for your application to Patrick Henry College, make sure your student has taken our minimum courses for admission listed below:
Mathematics (Minimum: Three)
These mathematics courses must include Algebra I, Algebra II, and Geometry.
One history course must be a comprehensive course in U.S. history and another in world history.
Government (Minimum: One)
Foreign Language (Minimum: One)
Electives (Minimum: Five)
To read more about what should be on your transcript, click the link below!
------------