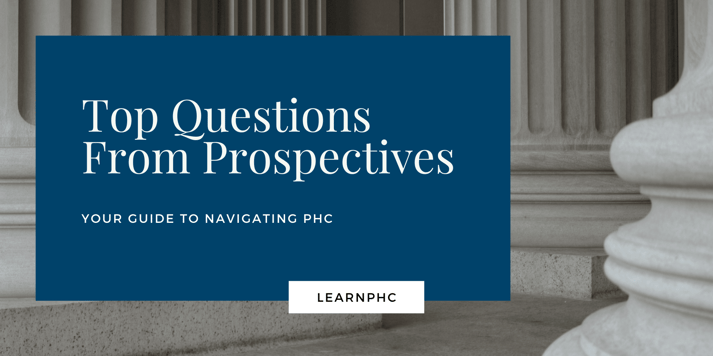 Moving to college can be overwhelming. Excitement, nervousness, and questions permeate the whole process! Below are some of the most common questions prospective students ask in regard to the application process, academics, student life, and the spiritual environment .
We look forward to seeing you on campus!
Application Process
1. What kind of scholarships are available?
There are two main types of scholarships available for admitted students, academic and merit. The academic scholarship is heavily based on how well you did on standardized tests.
The other type of scholarship PHC offers are merit scholarships. PHC seeks to reward students who have demonstrated excellence in a variety of merit-based activities. To apply, a student must first be admitted to the College.
2. What is PHC's transfer policy?
You can find PHC's transfer policy in the Academic Catalog here. The first step is to send a copy of your transcript to the Admissions Office and send test scores to PHC. The Admissions Office will forward those documents to the Registrar who determine whether you're eligible for transfer credit. In addition, the Academic Catalog contains a chart that details how AP test scores can transfer to PHC.
Academics at PHC
1. What is the hardest class?
The answer to this question is best found through experience. While being at college, students learn more about their academic strengths and weaknesses. Obviously, everyone's strengths and weaknesses are different. In addition, the classes get tougher as they become higher in class level. As a result, the hardest class is very much dependent on the student. Most students find The History of the United States I and II, taught by Dr. Robert Spinney, difficult.
2. Is there a diversity of thought?
Absolutely. An important element of the classical liberal arts, according to Littlejohn and Evans (2006), is a particular "ethos," which they describe as "the essence or the 'feel' of the school as a community of faith and learning" (p. 53).
Ethos is the inarticulate expression of what the community values. It includes the quality of the relationships within the school, the traditions, the professional comportment, the approach to classroom management, the out-of-class decorum, the aesthetic personality of the school reflected in the student and faculty dress codes, the visual and auditory imagery, and the physical plant itself. And ethos is interfused with the academic culture including curriculum, pedagogy, faculty preparation, and student learning. Ethos is the way in which the school expresses (or doesn't) truth, goodness, and beauty through the experiences of every person who enters our halls. (pp. 53-54).
While the ethos of PHC is understood in these ways just described, the Academy should be the intersection of ideas and PHC is no exception. Students attending PHC represent all regions of the United States and each have unique viewpoints and Christian faith backgrounds. Students will study the major doctrines of the Christian faith as well as numerous "great works" that gave us the Western Civilization.
The diversity of viewpoints is celebrated—even enhanced—as students are required to intellectually wrestle with the recurring political, economic, intellectual, diplomatic, and social themes in the history of the Western world. Students will learn the intricacies of the various important political systems, schools of philosophy, major religions of the world, and our rich history in order to better make application of their analysis to all aspects of life for God's glory.
PHC's philosophy of education is not just a sequence of courses, but a conceptual framework and methodology that teaches students how to think, not what to think.
3. PHC is academically rigorous. Does that mean it's impossible to pass?
No it doesn't. However, to be successful at PHC, you're going to strive. What are you willing to put into the process personally? A lot of the first year is learning how to study or test well in addition to adjusting to a new place and having lots of new freedom. In addition, students learn how to balance their academic, spiritual, and social life. These are some of the toughest, but most important lessons to learn. In addition, professors are always willing to talk to you personally to help you be successful while attending college.
Student Life at PHC
I. What can you do for fun on the weekends?
PHC is close to both Leesburg and Washington, D.C. Many students take day trips to Washington, D.C. during the semester as it provides many opportunities to create memories and bond with your friends. There are a good handful of museums, like the National Gallery of Art, which are free and open to the public. There is a bus that runs near PHC and can take you to the Reston-Wiehle East Metro stop which then takes you to Washington, D.C. Traveling time is usually two hours, but it's well worth it!
If traveling to Washington, D.C is not up your alley, then Leesburg is about 15 minutes away from campus. The best way to enjoy to enjoy being in Leesburg is to walk through the town and soak up its rich history. (Fun fact: Leesburg was briefly the capital of the United States in 1812.)
In addition, Leesburg is where you'll find the closest department stores, like Target or Walmart.
In our hometown of Purcellville, you can find many cute coffee shops and stores which are loved by the PHC family! Sometimes students will even drive around the town just to look at what Purcellville and Leesburg can offer. Something as simple as walking to Harris Teeter, the local grocery store, with your friends can be relaxing and highly enjoyable.
On campus, students can play in our tennis, basketball or wallyball court. In addition, we have several pianos located in the Barbara Hodel Center for the benefit of the students. Many students gather together in the dorm lounges or in their dorm rooms to watch movies, play games, or just talk. While going to PHC, there are many opportunities to sit back and relax after a tiring exam. Just remember to social distance, wear a mask, and follow the COVID-19 procedures set in place.
2. Will there still be time to have fun considering how rigorous the academics are?
The best way to answer this one is by saying there can be time. Whether or not you will have time is dependent on your work ethic. Going to college is very much about balancing your responsibilities. There will hardly be a time where you can do all of your homework, study for tests, write your essays when you want to, hang out with friends, AND work within a week. It is simply impossible to put your 100% best effort into every assignment, test, project, and into your personal life. Typically, there is always something that has to sacrificed. So then, the question is whether or not you're willing to sacrifice something in order to do something fun and relaxing. Remember though that taking a break to relax is often healthy and better for studying for tests.
3. Is the size of the school a barrier?
Not a bit. PHC is, indeed, a small place. Men in Oak Hill might have to walk to Founders Hall for class. That would be the longest walk to class possible but it only takes about 5 minutes. There are about 300 students on campus, however, there is always someone new to meet.
As for opportunities, PHC's unmatched record of moot court dominance, LSAT scores, Tier-1 law school admission, and Supreme Court clerkships give our graduates the greatest chance for success at these influential positions. Within a 4-year period, four PHC alumni have clerked for the following U.S. Supreme Court Justices: Scalia, Roberts, Kennedy, Alito. A Supreme Court clerkship does not guarantee someone will become a Supreme Court justice; however, 5 of the 9 justices serving in 2019 were previously Supreme Court clerks.
PHC graduates flourish in both Christian and secular organizations, earning positions in national outlets including FOX News, National Geographic, The American Conservative, Forbes, and WORLD Magazine, while their writing has appeared in The New York Times, and the Washington Post, among many others. The voice of truth is beginning to take root in our nation's media, in part because of PHC.
Spiritual Environment at PHC
1. Can I genuinely grow in my faith?
Yes. Absolutely! High academic rigor and conservative principles are insufficient unless informed by the belief that God is the source of all Truth. Patrick Henry College has taken specific measures to ensure our commitment to a biblical worldview. Our Statement of Faith is affirmed and signed by all students, staff, faculty, and trustees.
In addition, members of the faculty, administrators, and trustees also affirm and sign a Statement of Biblical Worldview, further emphasizing our Christian mission. PHC is built around a Community of Worship that includes corporate chapel, student-led Bible studies, and informal faculty discipleship.
Students attend a local church of their choice, which helps them become an integral part of the community. The Word of God is incorporated in every aspect of our college, creating a Christ-Centered Culture. Every class, from literature to physics, is taught from a biblical perspective. Prayer is the centerpiece of our community, producing an environment where students can flourish and pursue Christ with all their hearts.
Choosing the right college is difficult since there are many factors to consider. Often times other people have the same questions that you're having. After all, they are being faced with the same decision. If you have any more questions, don't hesitate to call your admissions counselor!
______
Are you ready to experience the best four years of your life?