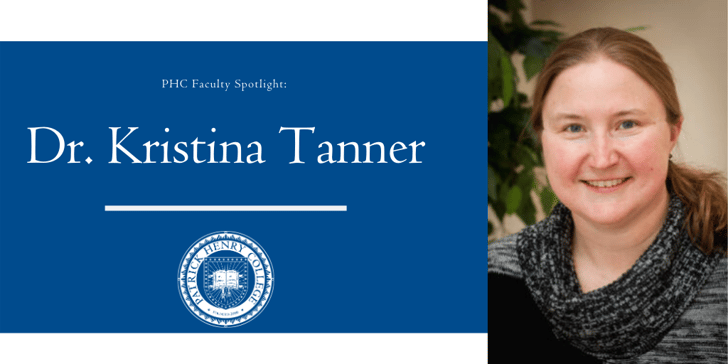 Dr. Kristina Tanner, D.M.A., is the assistant Music Professor at PHC, as well as a mother of 5 children (with another arriving mid-May!), and wife to a husband with a military career. We chatted with Dr. Tanner to hear her story of how her career in music and teaching came to be, and she shared with us her wisdom on balancing a family and a career.
Q: What life events led to you becoming the Professor of Music at PHC?
I informed my parents when I turned eleven that I wanted to go into classical music, and despite their (fairly strenuous) requests that I do something else, I was determined to do it. I loved music (piano, voice, clarinet, anything) more than almost anything else I ever spent time doing as a child. I was blessed to earn a full-tuition scholarship to Vanderbilt, which made my college decision for me. As it turns out, Vanderbilt had (and has) an amazing music history program, which not only gave me the chance to earn honors in music history but gave me a chance to do an "undergrad assistantship" in music history.
I have a fairly rare background (for a pianist) in music history, which was expanded by assistantships and extra coursework while I was doing my master's at Peabody Conservatory and then my doctorate at University of Maryland. This has been a huge help with my job at PHC, since I teach a wide variety of subjects in music—including piano, music history, music theory and aural skills, and music pedagogy.
I also was—by the grace of God—able to be on staff (as the faculty accompanist) at the MasterWorks Festival, a Christian summer classical music festival for several summers during grad school and after, which was wonderful... and helped to prepare me to teach at PHC, though I didn't know so at the time.
Q: How did you come to PHC?
My friend Christy, a friend for some twenty years now, is a pianist friend of mine... she was working here at PHC as the piano professor in the mid 2000's, and realized that we had need for a second teacher to teach all the available students. She recommended my name, and I came to PHC to give a sample masterclass [open lesson] and interview for the position.
My favorite part of that story is that Dr. Hake said that I should meet him—after the masterclass—in Red Hill to complete my interview. Not knowing anything about this, I knocked on the front door of the building, and a kind young gentleman let me in. This left me standing in the lobby, passed on all sides by college students (male ones) heading to class, and quite concerned about where I might have lost Dr. Hake. He found me several minutes later, apologizing for accidentally routing me into the men's dorm!
Q: Why music?
Partly because the challenge never stopped. Possibly because, also, of my amazing childhood piano teacher. She was one of those high-energy people who was always funny and made piano incredibly joyous. When I informed her of my intentions to go into music, she sat me down and gave me the rundown of how hard this was going to be (incredibly), how unlikely it was that I would succeed in the field (astronomically bad odds), and how very much I would have to love music in order to make this happen (so much that I couldn't imagine ever doing anything else).
In retrospect, I imagine I could have been happy doing something else, but I took her challenge. She was, of course, right about all of it—it was incredibly competitive and really, really hard, but I love it.
Q: How have you been able to balance a family and a professional career?
I'm not sure I always DO balance family life and career, and I certainly know I don't do so perfectly. I've been very blessed to have a husband who believes it's worth using my gifts at home and in music / teaching, so he makes it a priority to help me have schedule flexibility to do so (whenever possible, since his military career has sometimes not enabled him to be home to help!). I'm also extraordinarily blessed to have a friend (also a friend for almost 20 years) who watches my children some of the time while I'm teaching, and is practically now a member of the family. She understands our family's views on discipline, on faith, on education, and many, many other things. Her help, especially when Matt is deployed, is invaluable in keeping things moving on the homeschool front.
In terms of things that help with the balance, I'm somewhat compulsively schedule-organized, so I have a menu plan for each week (utilizing the crock pot on my teaching days), a chore schedule for the children and myself, and a curriculum plan. I do a lot of memorization work with the children in the car when I bring them to work with me. However—and I have to emphasize this—the laundry is almost never fully caught up, and I certainly don't have a perfect record of always getting the family and work balance exactly right! God is gracious to keep helping me and to forgiving me when I blow it, as is my husband on both counts!
Q: What has been the biggest blessing from teaching at PHC?
Probably the friendships with students and faculty. The PHC community is a unique one in many ways—intellectual interests, faith, support, and love for Christ, others, and thinking.
If I had to pick a second blessing, it would be the joy of having my children partake in a multi-generational community of believers outside our church, with the chance to emulate the learning and the character of many students for whom I have great respect. There is really nothing like raising my children around PHC students!
Q: What is your advice to students who dream of maintaining a family life and a professional career?
First, remember to prioritize listening to Christ. I have at various times despaired of ever having practice time for music again. At one point, I told God I would give it all to Him and admit that I'd never get to perform again until Heaven. That was when I had just had child number…. 3, maybe? 2? I just didn't think I would ever get past being a mom of small people who were clinging to me all day. God is bigger than that, and eternity is a LONG time. So, my first piece of advice is: don't assume that God doesn't have a plan for you to use your gifts, even if you have to pause your professional career entirely.
Second, communicate well with your spouse (or your future spouse) about your feeling of calling, especially if you feel called to a career specifically or to the home solely and specifically. Matthew and I have had this conversation many times over the course of our marriage, and both of us have been surprised that we don't always maintain the same certainty about what I'm called to do. I wouldn't be able to do what I do without a spouse who is willing to participate actively in family life AND in supporting me having a career. He's a pretty amazing guy (I'm not just saying that because I'm married to him!)
Lastly, remember that in our modern culture there are a lot of ways to do multiple things and balance them in multiple ways. Homeschooling is drastically different now from fifteen years ago, and there are many more options. We're finding out how many things can be done with online support that enable in-person participation as well as work-from- home options. I'm grateful to God for the opportunities he's thrown at me!
Q: How are you able to give excellence in all area of life?
I'm not, always. Some days I feel like the laundry is drowning me! However, one thing that is helpful is the fact that with work and family both in my life, each is a break from the other. At some level, I don't really stop working: I don't watch TV, and I only rarely watch a movie or a documentary (during which I'm inevitably folding laundry or grading quizzes); I memorize homeschooling lessons while I'm driving; I set up the crock pot in the morning and clean up the school room before bed.
But because I have two "big focuses" in my life aside from Christ and my family—homeschooling and teaching at PHC—I always have a different place to put my focus to distract me from the work of the other side. This is actually helpful.
I've been trained from a very young age that our calling as believers is to continue challenging ourselves to become more like Christ, which means pursuing excellence at the same time as pursuing holiness. Some days I do one or the other better, but the callings are always there, alongside the calling to love God and serve others.
Q: What advice do you have for students juggling several responsibilities and life events at the same time?
First: remember that perfection is impossible. Strive to serve Christ instead of striving to do everything well.
Second: remember that God made us to be revived by rest, so sleep is important.
Third: remember that the most beautiful things about life do not happen in the most productive moments. They happen in the moments that relate to people and relationships. You likely won't remember all the digits of your GPA twenty years after college, but you may very well remember a discussion that occurred with good friends over coffee at 10 p.m. on a Thursday.
Last, remember that NOBODY has it all together, and the illusion of following after someone else's perfection is pointless.
---
Read about our other faculty here at PHC!