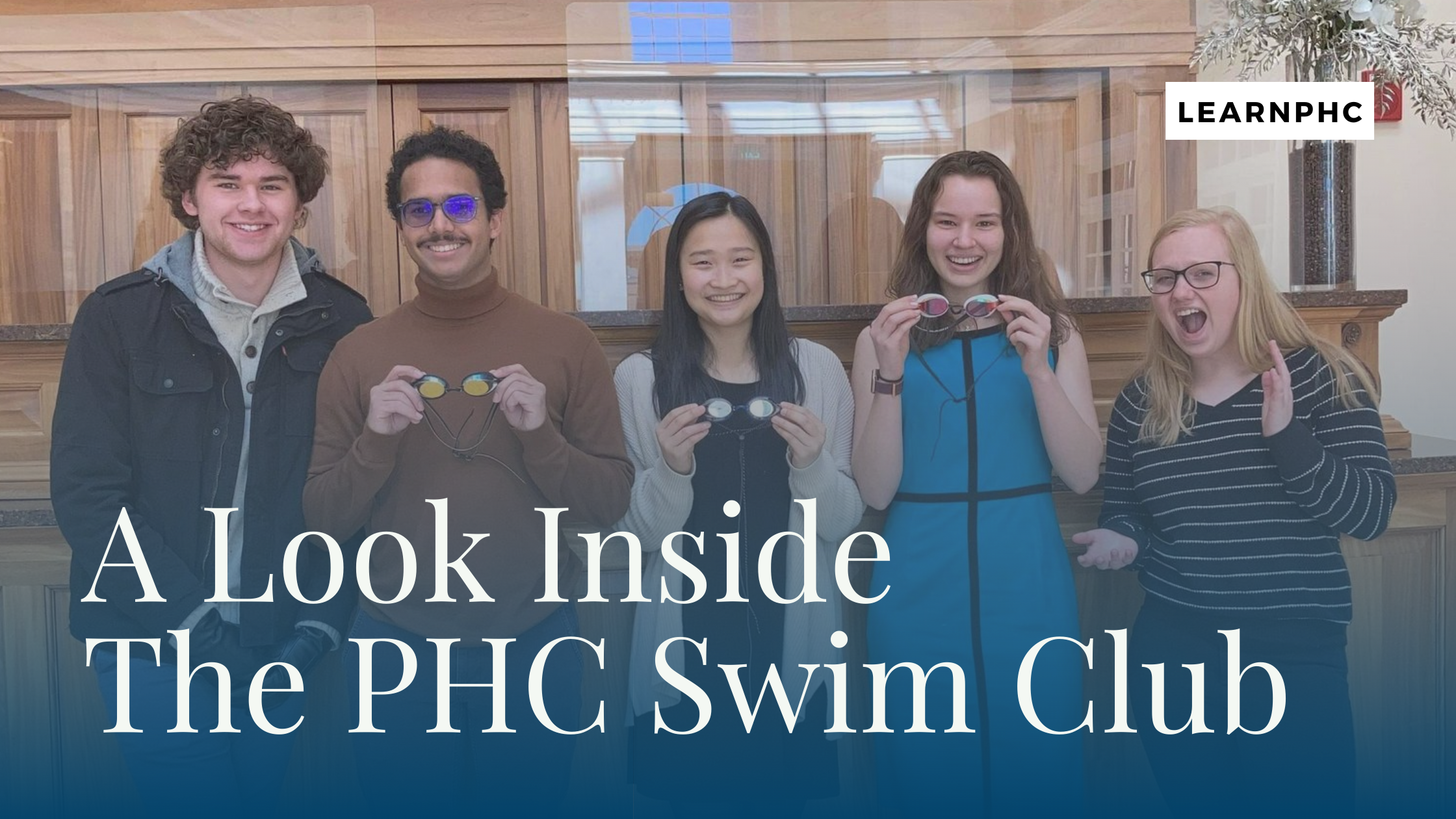 It's 6:30 in the morning. Junior Kennedy Kruse and her fellow PHC swimmers walk into the Round Hill Aquatic Center ten minutes from Patrick Henry College. Outside, the sun sends rays of sunlight peeping through the windows lining the walls of the pool. Kruse yawns and walks to the edge of the cold-looking water.
"All right, ya'll," Kruse says. "Let's do a 400 freestyle warm-up."
A roar of rushing water enters her ears as she soon warms up to the temperature and starts off the day with her favorite activity.
The PHC Swim Club was started in Fall 2021 by Kruse, who serves as the head coach of the newly formed team. Members meet two to three times a week for hour-long practices on Tuesdays, Thursdays, and Saturdays. Senior Josiah Ssempa and freshman Katie Northcott serve as co-captains of the club of about 15 members. While the attendance fluctuates by semester and day, the average attendance rate is about five people per day.
Kruse swam competitively for 11 years before coming to PHC. While she thought her swimming career would halt in college, she was amazed by how many people she ran into at PHC that swam before and had an interest in continuing the sport. After figuring out logistics like as admission fees and transportation, she signed the papers to make swimming an official campus club.
One of the reasons she loves the sport is the ability to push herself past her limits.
"While you're in the middle of a grueling set almost everything in you wants to give up. You're out of breath, you're entire body is in pain, and you don't think you can keep pushing," Kruse said. "But you've got to tell yourself to keep going and in the end, it will be one of the most rewarding experiences."
This is often where the aspect of swimming camaraderie plays in. "Having other people there keeps you going," said freshman Bennett Watts. Knowing that teammates are nearby struggling just as much keeps the club members from giving up or backing out. Breathless words of encouragement and healthy competition are often what get the swimmers through a set.
Part of stewarding a gift or a passion is to do it well. Competition in sports can help motivate individuals to do their best. Oftentimes, athletes don't realize how far they can push themselves until there is someone else beside them to compete with.
During their practices, they work on improving their swimming ability and getting in a good workout for the day. Practices consist of sprint sets, as well as aerobic and endurance exercises. Depending on the day, Kruse, Northcott, or Ssempa will lead the group through whatever set they have created.
"It's a great way to get exercise," Northcott said. "You get a full body workout, and it's a pretty low injury sport."
Swimming is just one of the many sports PHCers participate in. The Equestrian and Baseball Clubs are other sports clubs. Basketball and soccer are PHC's two official sports teams along with intramurals in Ultimate Frisbee, Volleyball, Ping Pong, Spikeball, and Tennis.