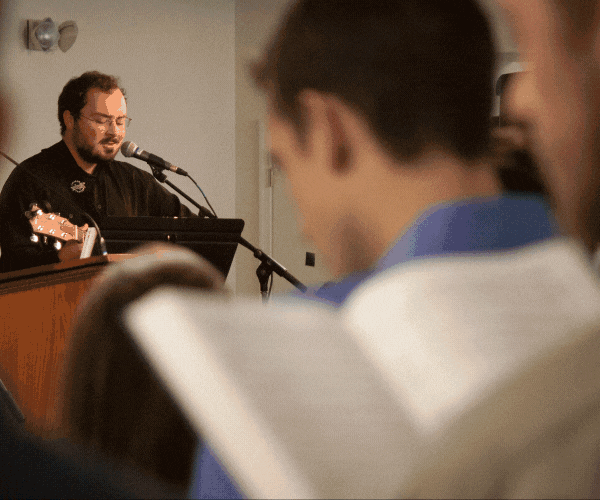 Imparting Christian virtue in a secular society through education.
Patrick Henry College requires on-campus students to attend Chapel services three times a week. Students and faculty worship together, pray together, and listen to a spiritual or practical message together before fellowshipping together in the dining hall. The other two days a week, students meet in their dormitories for student-led Bible studies, where they discuss spiritual difficulties, victories, or challenges, and pray for each other.
But what's the point of all this? Why does corporate worship matter?
Most colleges in the U.S. were initially born from biblical principles and gospel-oriented, Christian education.
Secular educational models dominate Western higher education, leaving Christian students and families in desperate need of Christian leaders, mentors, and professors in the academic world today.
Patrick Henry College believes that consistent nurturing of the spiritual life leads to virtue and knowledge. While PHC isn't a family, nor a church, PHC staff and faculty realize that the college years are a time of cultivating lifelong spiritual disciplines and developing a Christian worldview. And for that reason, PHC encourages its students to commit to a local church congregation after arriving on campus. In addition to this encouragement, PHC provides mentorship opportunities for students, from Resident Directors who oversee dorm life to godly professors who assist students with difficult questions of vocation and academics.
While many secular higher education institutions today are far removed from biblical principles and godly living, PHC strives to stand apart from these institutions by shepherding young Christian men and women toward righteousness and leadership.
For this very reason, make every effort to supplement your faith with virtue, and virtue with knowledge, and knowledge with self-control, and self-control with steadfastness, and steadfastness with godliness, and godliness with brotherly affection, and brotherly affection with love. For if these qualities are yours and are increasing, they keep you from being ineffective or unfruitful in the knowledge of our Lord Jesus Christ. For whoever lacks these qualities is so nearsighted that he is blind, having forgotten that he was cleansed from his former sins.
2 Peter 1:5-9 (ESV)

PHC equips students with virtue so they might gain knowledge.