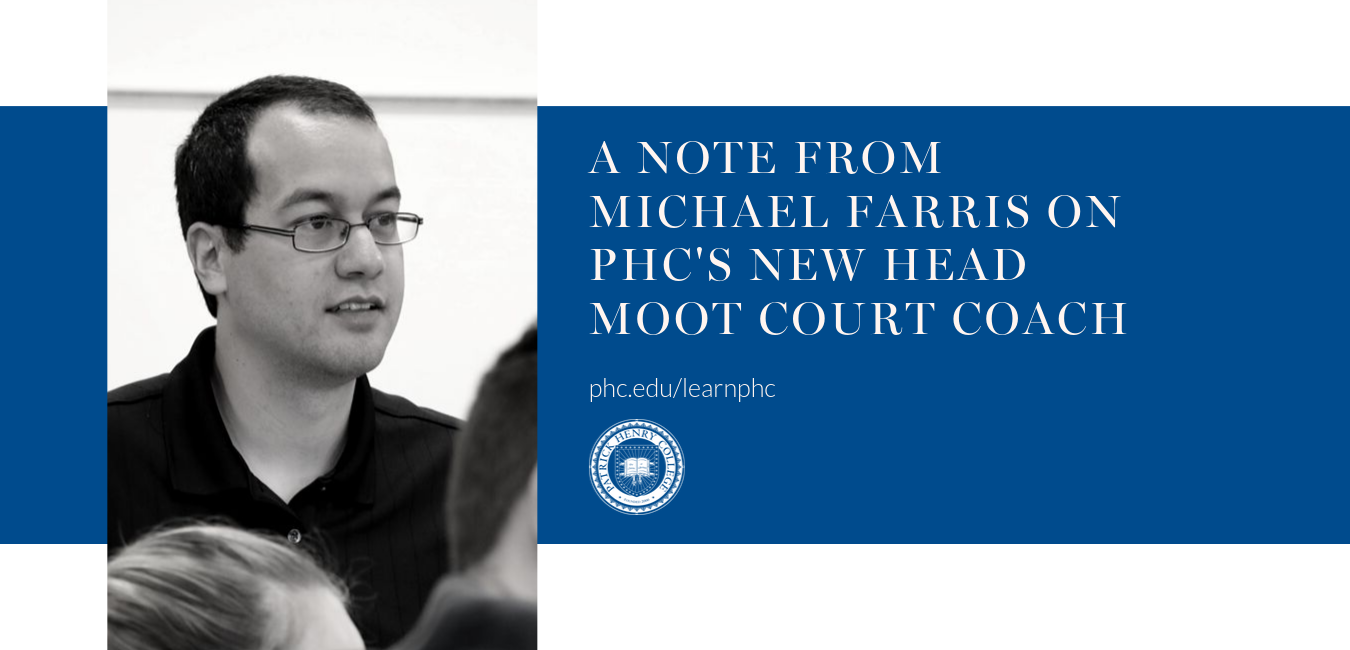 The following is a note from Patrick Henry College's founder and Chancellor Emeritus, Michael Farris. Farris is now is President, CEO, and General Counsel at Alliance Defending Freedom.
The Apostle John was the first to declare that he had no greater joy than to see his children walking in the truth. (3 John 1:4) This is true for me with my own children, but I also feel this way when I see PHC alumni walking in the truth.
In my current role with Alliance Defending Freedom, I have the privilege of interacting with many of our alums. There are several working for ADF, two attorneys and a few in other roles. I see even more in our programs for law students, Blackstone Fellowship, and in our program for undergraduates, Arete. PHC students are selected at a higher rate than any other college for these very competitive programs—and this was true before I came to ADF.
But there is one alum who I want to mention in particular. Peter Kamakawiwoole was (with his partner Sarah Wilson) PHC's first Moot Court national champion. He was a freshman when he won.
Peter went on to law school at St. Louis University and then joined HSLDA in its litigation department where he excels in his defense of homeschooling families. But Peter has also been active in AMCA Moot Court for many years. He has helped with PHC intramural competitions and some informal coaching of our moot court teams. He has also been active in grading briefs for the national brief writing competition and has advised the case committee for AMCA in helping to select and shape the cases for future competitions.
So, when I learned that Peter was under active consideration (and later hired) to become our new Moot Court coach, I was thrilled. He is extremely well qualified to carry on our tradition of winning with grace. (He was also very willing to accept my offer to help coach on an ad hoc basis.)
But I will use Peter as an example of an even more important truth.
Yes, I love the fact that Peter is well qualified to lead a program that is so central to the identity and mission of Patrick Henry College. But even more I love the fact that Peter faithfully walks with Jesus. He is married (to another PHC alum, Corrie Fahrenbruck Kamakawiwoole). They have five children and Peter is a faithful husband, dad, and church member. His walk with the Lord is steadfast and clear.
Peter is far from alone in this regard. The vast majority of our alumni are also walking faithfully day after day. And I love it when I see them in person or on Facebook and the evidence of their continuing faith comes through loud and clear.
There is a lot to celebrate when we list the achievements of our alumni. Four clerks for the Supreme Court of the United States—a fact that very, very few colleges can say even if the institution is 100 years old. And many, many more.
All of these things are encouraging and satisfying. But without seeing them also walk with Christ in steadfastness, the celebrations would be tinged with sadness.
I wish I could say that our record was perfect. No Christian college can say that. But I am thrilled in what I consistently see on this most important means of evaluating the success of Patrick Henry College. I have no greater joy than this—to see our "children" walking in the truth.

Michael Farris is President, CEO, and General Counsel at Alliance Defending Freedom (ADF), the world's largest Christian legal advocacy network fighting for religious liberty, life, and protection of the family. He is also Chancellor Emeritus of Patrick Henry College and sits on the Board of Trustees.
-----
Explore our forensics program further by clicking the button below.
Patrick Henry College exists to glorify God by challenging the status quo in higher education, lifting high both faith and reason within a rigorous academic environment; thereby preserving for posterity the ideals behind the "noble experiment in ordered liberty" that is the foundation of America.