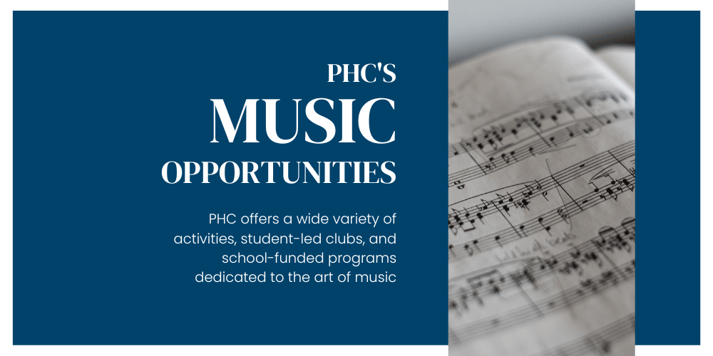 As one of the original seven liberal arts, music is regarded as essential to PHC's pursuit of excellence. Alongside its impressive forensics repertoire, PHC offers a wide variety of activities, student-led clubs, and school-funded programs dedicated to the art of music. "PHC has a great balance of musical activities for credit, for worship, and for fun," said Dr. Kristina Tanner, Assistant Professor of Music.
For students who want to continue their musical training professionally, PHC offers chorale and orchestra, both of which perform in chapel and concerts. Junior Sahknaa Relph, who has played the cello since she was in fourth grade, joined the PHC orchestra as a freshman and has loved the experience. Relph has participated in many orchestras over the years, including a college orchestra and an Allstate orchestra in South Dakota, but she says PHC's orchestra has been the best. "Everyone's dedicated and has respect for what they do," Relph said. "The directors are willing to help with scheduling . . . so the atmosphere is stress-free but professional."
PHC offers lessons for student credit in piano, voice, strings, and flute, which are open to a students with any level of experience.
Students can also serve the campus with their musical abilities by volunteering to lead worship in Chapel through the Chapel Guild. "Chapel guild has allowed me to give back to the PHC community in a way that isn't overwhelming for me as a full-time student who also works a lot," Junior Isabel Perdomo said. "Additionally, it is a way for me to praise the Lord through the gifts he has given me in a very direct and tangible way. We can give glory to God in all we do."
Students who exercise their talents for fun also find ways to express themselves on campus. Student musicians write songs in the practice rooms and sometimes perform them in Student Life Coffee Shop performances. There are also small clubs specialized for instruments, and there is even a student band that has played for student dances.
PHC offers a minor in music, designed to help students use their musical training and talents toward a variety of usages such music ministry, leading church worship, teaching students in their instrument of choice, or being able to teach music in a homeschool or Christian school environment. It strengthens the students' understanding of the grammar of music (music theory and aural skills such as learning to sing melodies on sight), but also enhances the students' leadership skills through courses and training in performance, music teaching, and worship music.