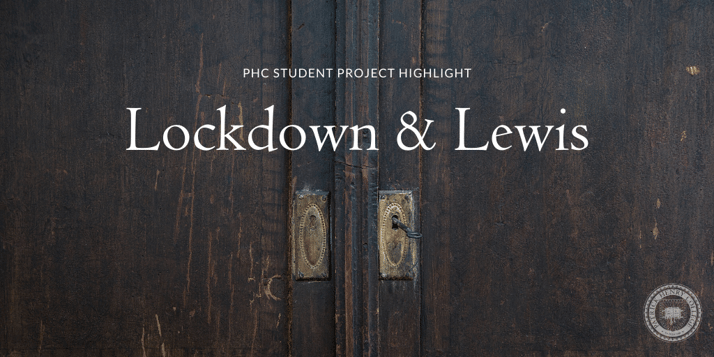 During the semester, PHC students like to participate in projects such as one of our undergraduate journals or a research project on a topic that fascinates them. But what about during the summer?
Rising senior Grace Roberts and recent graduate John Southards are diving back into C.S. Lewis' The Chronicles of Narnia to get a deeper look at the beloved children's novels. Both Lewis enthusiasts, Roberts and Southards started a Facebook page affectionately titled Lockdown & Lewis, where they can share their thoughts and analysis in a weekly live broadcast.
With recent COVID-19 restrictions and social distancing guidelines, it's hard to reach a lot of people. That's why Roberts and Southards decided that a Facebook page and weekly uploads were the best way to spread their content.
"Anyone who knows me knows that I love—actually love might be an understatement—but I do love C.S. Lewis very much," Roberts said in their first broadcast. Her first exposure to Lewis was reading The Chronicles of Narnia. Now, she is returning to it much later to get a different perspective.
Roberts and Southards dive into the book series chronologically, beginning with The Magician's Nephew. At the beginning of the process, they read the books and write-up content points. Finally, they go through the material during their broadcast.
Why re-read Lewis' Chronicles? Roberts and Southards believe that there is a lot of meaning to be found in coming back to these classics for a second look. Southards quoted Lewis, saying, "No book is really worth reading at the age of ten which is not equally (and often far more ) worth reading at the age of fifty..." While The Chronicles of Narnia are children's literature, the stories are packed with significance.
As children, there are advantages to walking into the wardrobe and seeing Narnia for the first time. As adults, there are different advantages to taking a second, deeper look at the depiction of salvation, redemption, and human nature that Lewis portrays. "Our goal is to get people to reevaluate something that is familiar to them," Southards said.
Lockdown & Lewis brings its own set of unique challenges for Roberts and Southards. Both are counselors for this summer's Teen Leadership Camps, and spend their free time reading and preparing for broadcasts. For Roberts, the hardest part has been keeping up with the readings. Their broadcasts cover a book each week, making it challenging to plan out enough time to be prepared.
For Southards, the challenge has been gauging content during the broadcasts. Both Roberts and Southards draw content from their audience as well as their own material. Sometimes, content that seems to be barely enough for twenty minutes ends up stretching for over an hour, creating challenges for getting through the material in the time allotted.
Despite these challenges, Roberts and Southards are embarking on an exciting new journey through a familiar place. They hope to use their passion for Lewis and The Chronicles of Narnia to inspire their audience to take a deeper look and hopefully find new meaning along the way.
______
Interested in hearing more about Literature at PHC? Click here...