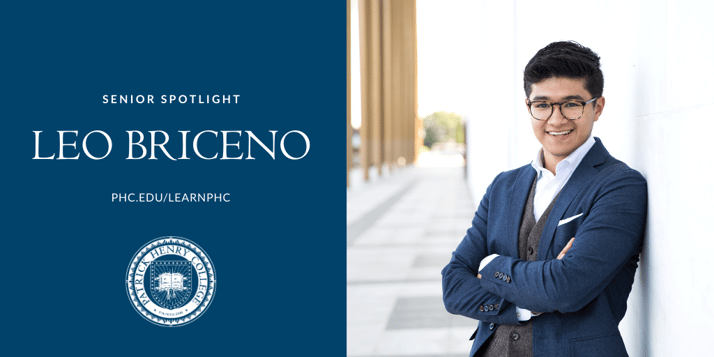 Patrick Henry College senior Leo Briceno has had the opportunity to intern with The Federalist since the fall of 2019. During this time, he has published several articles covering a wide variety of the important political and social issues facing Americans today.
Immersive Hands-on Experience
PHC strives to give its students real-world work experience by guiding them to internships that give them experience in their major field of study.
"I manage the social media accounts in the early morning," Briceno said. "But the part of the internship I really enjoy most is the writing." He wrote about cultural trends and alarming statistics in an article about the increasing rates of millennials' acceptance of communism and socialism in America last semester.
Briceno has also written about major headlines such as Trump's Impeachment trial. He also authored articles covering the Catholic vote in 2020 and Megyn Kelly's recent reappearance in the news coverage world.
"The Federalist is a great medium to explore your interests as a developing journalist—especially because they cover a multitude of different things, including entertainment, politics, culture, religion and more," Briceno said.
Intense Discipline
Being a political journalism major, Briceno highly values the skills that he was able to take from the classroom into his internship. One key emphasis in the journalism program is to understand important and complex issues going on in the world and be able to see and communicate them clearly.
"Patrick Henry College really prepares you for writing well and not being satisfied with mediocre investigation," Briceno said. This rigorous academic mindset extends to all areas of study at PHC. It is a part of the school's mission to prepare Christian leaders that will shape culture "for Christ and for Liberty."
Working at The Federalist, Briceno has discovered that he is passionate about foreign policy and international relations. PHC strives to give students the critical thinking, work ethic, and knowledge they need to succeed in the world. However, it takes a step further by enabling students to pursue their vocation by cultivating their talents through internships.
Looking to the Future
Briceno is well-prepared to get his feet wet in political journalism. "I'm currently writing a story on the legal framework for artificial intelligence facial recognition software that's been dabbled in by law enforcement," he said. He looks forward to writing about AI and expanding his knowledge of the world around him.
PHC's classical model of education is designed to give students a broad level of instruction. Specialization comes with immersive and informative internships that help students, like Briceno, pursue their calling.
______
Click below to read more about the Journalism Major at PHC!