Junior Karis Churchill interned with the Department of Education on Capitol Hill for twelve weeks this summer where she learned about the inner-workings of bureaucracy and policy development.
LearnPHC sat down with Churchill to discuss her internship experience.
How did you find out about this internship?
I found out about the internship through a family connection, actually. My sister's boyfriend's friend told his friend, a Special Assistant at the Department of Education named John Huston, that I was looking for an internship. I was just sitting on my bedroom floor doing homework when I got an email from John Huston saying something like, "Hello, I have a possible internship for you at the Department of Education. Would you like to apply?" And I thought sure, so I sent off my application, and then I got accepted!
What were some of your primary responsibilities throughout the summer?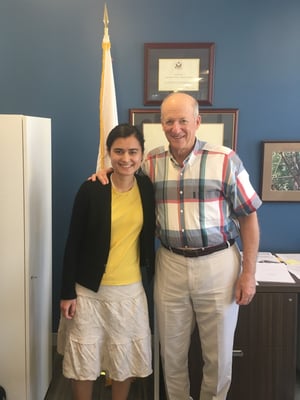 I had a few large projects over the course of the summer. One of them was creating a system that political appointees could use to reference mail communication between the department and Congress. I organized about three hundred letters into that system and on my last day I presented the system to Diane Jones, the political appointee.
I also got to attend Diane Jones' daily huddles with the other political appointees in the office. And that was an incredible experience because I got to watch policy being made live. Before these decisions were announced in the news, I got to see people saying, "We're going to do this for that reason."
One of my favorite projects near the end of the internship was managing a team of three people reviewing applications for a Developing Hispanic Serving Institutions (DHSI) grant competition. It was fun to manage a team of people and foster a respectful and upbeat environment where everyone could benefit from each other's views.
How did you end up as manager for that project?
The team was understaffed, and my supervisor heard their cry for help and said that I should ask them if I could fill that role—and it worked out.
Where did you live during the internship??
I actually lived with two of my siblings in Washington, D.C., which meant I got to walk to work every morning with the Capitol on my left and the Washington Monument on my right, just before going to the LBJ building.
What did you learn??
I am a government major and I want to be a lawyer, so it was helpful for me to learn a bureaucracy in action. I learned that often people think that each other are evil when the only problem is miscommunication or that people working from different sets of facts. And there are so many people trying to do good jobs, but other people just don't see what they see, so they come to different conclusions. And then they think, "Oh, how in the world could they have made that decision?"
Do you have any advice for students looking to intern in similar positions??
I wish I would have taken more time, in the beginning, to get to know people.
What are your plans for the foreseeable future??
After graduating from Patrick Henry College, I'm planning to take a gap year, work for that year, and then go to law school. And then I'll go to the highest-ranking law school that will accept me.
-----
Learn all about Patrick Henry College internships here.
Patrick Henry College exists to glorify God by challenging the status quo in higher education, lifting high both faith and reason within a rigorous academic environment; thereby preserving for posterity the ideals behind the "noble experiment in ordered liberty" that is the foundation of America.