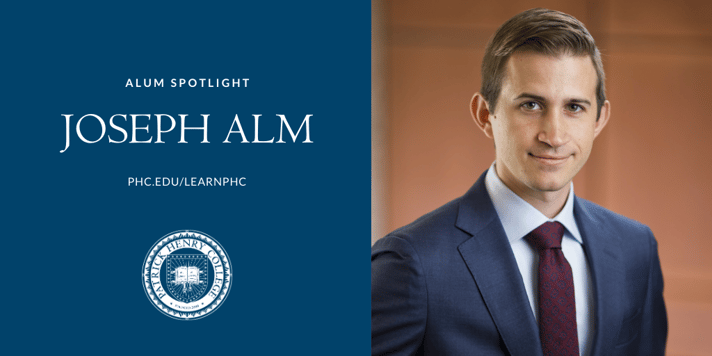 Joseph Alm (Gov '10) was a top forensics competitor during his time at PHC. Alm has since graduated from Columbia Law ('13) and is currently an attorney at Boies Schiller Flexner LLP in Washington, D.C. We spoke with Alm about how his time at PHC influenced both his life while attending school and his life now as an attorney, father, and child of God.
How did the academics prepare you for where you are now?
"The most impactful class at Patrick Henry for me was Conservatism, taught by Dr. Mitchell," Alm said. "He helped me to think the way that I think today. Before that class, I didn't have a great definition of what being 'conservative' even meant. Dr. Mitchell gave me that and grew my horizons to appreciate forms of art that I had not interacted with before."
Competing in moot court as an undergraduate at PHC prepared him to excel at Columbia. In 2011, he won the Constance Baker Motley moot court nationals with his partner and fellow PHC alumnus Aidan Grano (Gov '10).
"Moot court taught me to distill legal principles," Alm added, "and helped me build with the practice of building innovative arguments."
How did PHC's community affect your life?
"If I had attended another school, I would have been in an environment where I would have had to focus on defending my faith rather than exploring hard questions," Alm said. "At PHC, we were able to engage in deep and theological questions from a place of safety."
The biggest impact PHC had on Alm's life came from the friendships he has carried with him from Virginia to New Jersey, California, New York, and back to Washington, D.C., where he now lives with his wife Rachel and their son August. Alm gives PHC's tight-knit community the credit for such lasting friendships, speaking of the breadth of common experience every student shares.
"Having a network of relationships around the entire country that can be this level of depth is something that is a huge blessing to me, and is rare outside of PHC," said Alm.
______
Click below to read more about PHC alumni!