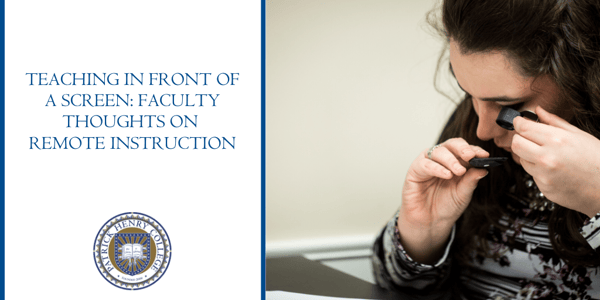 Patrick Henry College is serious about maintaining a high academic rigor. Part of the benefit of being a small, Christian, liberal arts school is having accessible faculty who are able to both teach and mentor students.
These faculty members didn't sign up to teach in front of a screen, yet that's where they have had to spend half of the semester amidst social distancing guidelines. We asked Professor of Literature Dr. Steve Hake and Assistant Professor of Biology David Lee how they were adapting and growing in this transition. Here's what they said:
Dr. Steve Hake:
Have you learned about yourself and about God through the global health crisis?
While I am very eager to see everyone again in the fall, this whole experience has fallen very lightly on me. The technology has worked surprisingly well, though it has been cumbersome at times. I have continued to meet one-on-one with students as necessary, and been able to complete the Dallas Willard study I began in January.
I live in a household of seven people and feel very loved and cared for. In addition, my daughter Katie lives across the street with her family of seven. Our neighbors are out walking all the time and very friendly, even though we are not shaking hands. Our fourteen close family members gather in our living room each Sunday morning to join a beautiful live-streamed worship service. Most importantly, my life is still rooted in my unshakable and ever-faithful Heavenly Father, Who holds my life—and all things—in His loving hands. I am blessed.
Professor David Lee:
Have you learned new things with this transition? If so, what?
I am amazed at how closely we can simulate a class environment remotely. Between video chatting, screen sharing, and learning management systems, it has been an informative process. However, I have also discovered that students tend to respond differently in a remote classroom, which requires extra effort to drive discussion.
What have you learned about yourself through self-isolation?
The biggest thing I've learned is that my prior efforts to host classes mostly online were not in vain. However, I have also found that class interaction is quite different remotely. I'm also getting tired of video chatting and seeing my own face this much.
What have you learned about God through the global pandemic?
This is another chance in my life to rely on Him in the midst of uncertainty. My 93-year-old grandfather was infected with COVID-19 and, after a tough battle, has been on the mend. My son is also struggling with the massive change in his routine, as well as the isolation. These are very trying times, and others are in a tougher spot. All we can do is rely on God, as He is the only thing that is constant.
Is the workload heavier or lighter?
In general my workload hasn't changed drastically. It's a bit higher because of the challenges of lab, but I have enjoyed avoiding my 1.5 hour commute.
Have there been significant challenges to this transition, if so, what?
The biggest challenge was the labs. Fortunately for Biology 1 we had already finished most of the labs that require much equipment. The remaining labs were fairly easy to simulate online. Biology 2 labs were much more of a challenge. Since it was a smaller class, we were able to carry out dissections and other procedures remotely without too much difficulty.
______
Click below to read more about student life at PHC!