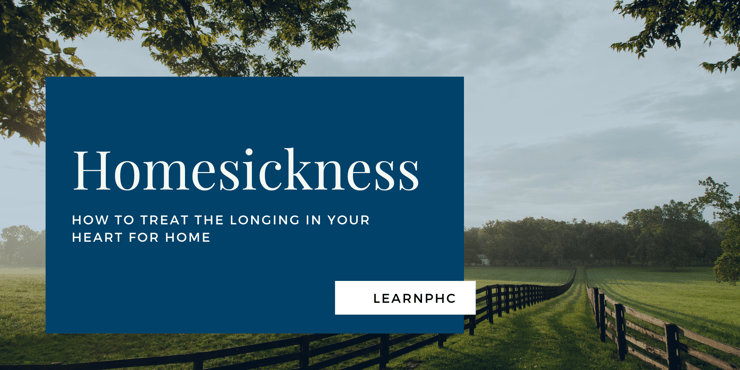 Picture this. You're here at PHC reading the classics and contemplating the thoughts of Aristotle when you decide to take a spontaneous snack trip with your friends. As you peruse for a snack to take back to your dorm, you spot your father's favorite beverage. And then it hits you: an intense longing for home.
Or maybe you're going for a walk around campus and you spot a car that looks a lot like your family car at home. Your heart leaps in excitement! Then comes the disappointment and the homesickness.
Maybe you look outside of your window at an unfamiliar landscape outside your dorm with a pond full of geese and surrounded by trees.
For many students, this is the first time being away from home for a long period of time. They struggle with feeling homesick once their family leaves. We asked a few students to share their advice on how to relieve homesickness and how to make PHC your new home. Here's what they suggested.
So how do you treat homesickness?
The number one activity that helps to relieve homesickness is to call home. Expressing your feelings to your parents helps you to process the emotions you are feeling in a healthy way. If you don't express homesickness, you are not able to fully deal with it.
Writing letters and sending pictures to your family helps also to keep the communication consistent. Senior Elizabeth Borders and her mom share daily pictures of themselves each morning which brings them immense comfort. Hanging photos of your family and friends at home near your bed or desk reminds you to call home too.
Developing friendships at college helps to relieve the longing from home. Life is full of stages that requires people to start anew in friendships and relationships. Learning to make new friends is a valuable skill; you will always be missing someone, but you will also always be looking forward to spending time with someone.
Once you get to Purcellville, finding a church family to become close with is also supremely important. Becoming close with church members allows you to become spiritually mature and provides more emotional stability. Travelling around with them also helps you to familiarize yourself with the area and associate it with someone that you are close to. It is also important to have an adult mentor to help guide you through life. Of course, reading the Psalms can bring comfort as well.
Theresa Rowland, another senior, found that becoming familiar with what is in Purcellville helps too. Knowing the different stores and businesses helps to make the town feel more like home.
If your family ever visits you at college, make new memories with them around town so that they are a part of your new life here as well.
Remember, homesickness is not a bad feeling to have. It is perfectly normal. So do not be afraid or embarrassed to be homesick. Acknowledge the feeling. Then, call your mom and take a spontaneous walk to downtown Purcellville.
At the end of the day, homesickness is a fondness for things left behind. That's something that Borders keeps in mind.
"There's the Winnie the Pooh quote: 'How lucky I am to have something that makes saying goodbye so hard.' But I wouldn't say lucky," Borders said. "I would say blessed."
______
To learn more about life at Patrick Henry College, click here to find other Learn PHC articles!