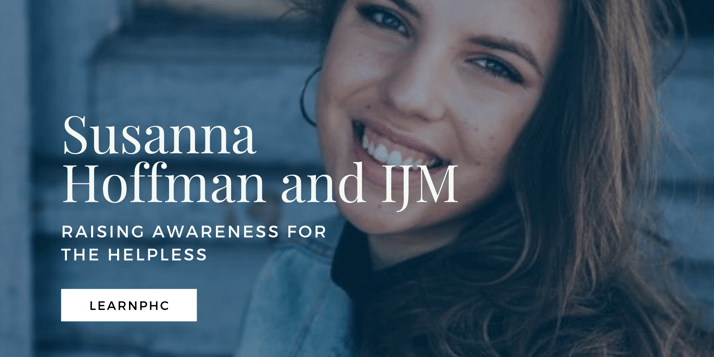 Last month Susanna Hoffman, and a number of other students at Patrick Henry College, fasted for 24 hours to raise awareness and financial support in the fight against human trafficking.
The fast, initiated by the International Justice Mission (IJM), is called the "Freedom Fast" and took place at schools and churches all across the country—PHC being one of the many "chapters" taking part in the event. As participants, each student gave up something in their lives for a day to raise awareness and contribute to IJM financially.
The specifics of what that looked like differed from student to student.
"I haven't really decided what I'm giving up yet," Hoffman said. "I would like to go all the way and do liquids."
It's really up to students about what they want to give up and how much they want to donate. Hoffman sees IJM and their fight against human trafficking as a topic close to home—one that she's passionate about.
Hoffman recently published an article in Evie Magazine featuring the story of Park Ji-hyun, a survivor of a human trafficking ring in China.
"I just wrote a story about a woman who was involved in trafficking in China." Hoffman explained, "I just feel like this issue is very pertinent to me and to where God is leading me in my career and in my life in general . . . so I would like to take it more personally."
In addition to participating in the fast, the students are contributing financially to IJM by donating a dollar an hour—24 total—as part of their involvement. But they weren't the only financial contributors.
Hoffman, like many of the other students at Patrick Henry College, partnered with her church to broadcast IJM's initiative. She raised $500 dollars from her congregation.
Human trafficking isn't a pleasant topic. It's hard to talk about and it's an even harder reality to grapple with. Hoffman noted that it's a subject that often isn't broached in the context of a church or college environment. As a result of being a part of the 2020 Freedom Fast, she hopes more college students and young adults will work towards addressing one of the world's most prevalent human rights issues.
"It expands your worldview," Hoffman said.
To learn more about how PHC students are becoming involved in their communities and the world, click below!